SAGE ENTERPRISE INTELLIGENCE
4 Important Benefits To Note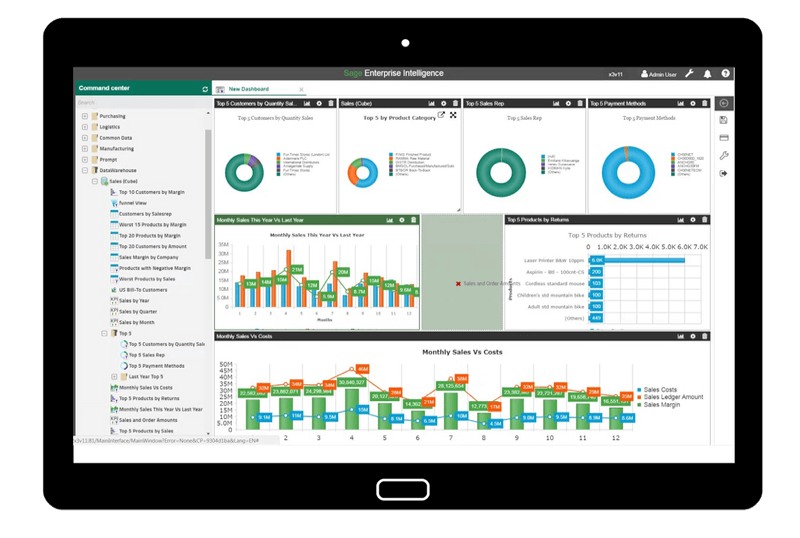 With all of the data going into your Sage 300 system, some find that the built-in reports aren't enough. Something more powerful like Sage Enterprise Intelligence (SEI) can help to convert all that data into actionable insights to run your business more effectively. Here are the top 4 benefits of this robust and agile business intelligence reporting tool.
1. Real-time Reporting and Analysis
Sage Enterprise Intelligence delivers fast, online analytical processing (OLAP) of even the largest database. With the powerful engine that drives SEI, you get real-time insights to make key decisions quickly and decisively.
And not only is the technology fast, the features and interface that help you slice and dice the data are intuitive and easy to use. That means you spend less time fumbling through functions and looking for data and more time analyzing and acting on it.
2. Easy to Use and Mobile
While Microsoft Excel is easy to use and familiar to just about everyone, it's not designed to handle the volume of data in today's ERP systems. But with SEI, you can still leverage those existing spreadsheet skills with the available Excel-based interface add-in.
What's more, SEI is web-based which means you can access your business intelligence reporting tool from a variety of mobile devices and tablets so you can track performance and make timely decisions from anywhere you are. This not only increases productivity, but also allows you to stay engaged even when you're away from the office.
3. Personalized Intelligence Dashboards
SEI provides you with a simple tool to not only access and analyze your ERP data, but also setup personalized dashboards and key performance indicators (KPIs) so you get quick access to the data that's most meaningful to your role in the organization.
4. Integrated with Sage ERP
SEI is totally integrated with your Sage 300 solution, which eliminates the need to export or "dump" data into an external spreadsheet or some other 3rd party platform.
Not only does the integration streamline analysis and cut the time to decision, interactive tools enable you to drill down or drill up to see transaction details in Sage 300 and how they are affecting your bottom line.
Contact us if you have questions or would like to schedule a demo of Sage Enterprise Intelligence.