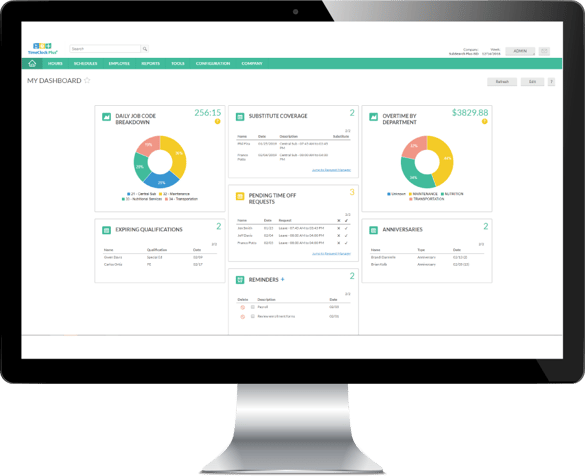 Time collection and payroll is a critically important part of any business since labor, for many companies, represents the single biggest expense. For companies that track time and attendance manually, the process can be cumbersome, time-consuming, and costly.
TimeClockPlus is a simple, all-in-one Time and Attendance system. Incorporating 30+ years of customer feedback and time and attendance expertise, TimeClockPlus has developed into one highly configurable application.
Some of the main features of TimeClockPlus are:
Cloud-Based Time Tracking. You can access and approve employee hours at any time, from anywhere, from any device.
Security by Design. An industry-leader in protecting sensitive data, TimeClockPlus designs security into the product at every step.\
Consistent User Experience. Time clock hardware, software, and mobile apps share a standardized, intuitive user experience.
Flexible Licensing Model. Only pay for what you need – license just the modules your business requires.
Workforce Management. Time Collection, Employee Scheduling, Time Off Management, and more all-in-one application.
Real-Time Reporting. Let dashboards and automated reports provide a real-time window into your workforce to maximize labor efficiency.
TimeClockPlus offers various modules to meet your specific business needs:
Time and Attendance. View employee hours, who's on break, who's on leave and monitor overtime.

Approve timesheets
Manage time off requests
Control labor costs
Job code breakdown
Monitor exceptions
Schedule automations
Track employee time
Enforce policies
Leave Management. Automated Accruals, Leave and Absence Management so you can give yourself a vacation from managing time-off.

Time off approvals
Mutliple views (leave schedules in calendar lists or dashboards)
Filterable views
Timeclock messaging
FMLA requests
Request methods
Request templates
Employee Scheduling. The perfect ingredients for employee scheduling so you can ditch the spreadsheets and efficiently schedule your workforce. Give your employees the flexibility to view and manage their schedules so you can tackle other tasks.
Automated scheduling
Open shift assignments
Manager dashboards
Shift boards and rosters
Exception reporting
Leave management
Employee qualifications
Drag and drop scheduling
Mobile Application. You Need the Flexibility of Mobile Apps to track your workforce and control labor costs wherever you do business.

iOS and Adroid Apps
Mobile app restrictions
Biometric supported
Mobile Kiosk
Subsearch Plus
Geo location services
Image capture
Mobile manager
Time Collection. Time Clock Devices that let you accurately collect and report on employee punches in real-time. In addition to clocking in and out, TimeClockPlus clocks allow employees to complete other self-service functions.

Unified clocking operations
Accurate track labor
Biometric and Proximity
Manage schedules
Employee leave management
Restrict clock operations
View hours worked
IP and Geo tracking
Substitute Management. Simple, all-in-one, substitute management software to empower teachers, substitutes, and administrators to collaboratively cover classrooms.

Automated sub requests
Mobile app notifications
Request favorite subs
All-in-one integration solution
Time and attendance
Subscription-based
Transparency for all
A time and attendance management system provides a wealth of information and reports at your fingertips. Real-time data will not only help you make better payroll decisions, it will also help you make better overall operational decisions. By accurately capturing and analyzing the time it takes to complete specific tasks, you'll have a better picture of your true costs and can make better management decisions.
Contact us to learn more about TimeClockPlus and improving your business through an automated time and attendance management system.