In order for your system integration to be a success, it is very important to work with a system integration expert who will consult you with the information necessary to select an integration architecture and development plan based upon your business' needs and technical suitability.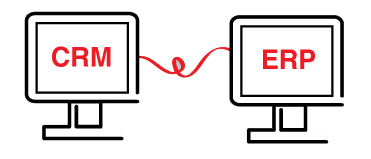 There are four primary areas that every business should take into consideration when integrating their CRM and ERP systems. These are areas that a knowledgeable consultant will be able to address with you to make sure the integration is done properly
1) Contact Integration
While Businesses, Contacts, and Addresses (mailing/billing) are stored both in the CRM and ERP applications, each one is the master database of record for a certain type of account. Typically, the CRM application is the master for leads, prospects and sales/support contacts while the ERP application is usually the master for contacts related to billing and shipping. The integration must support the business rules regarding how other businesses, contacts, and address data are synchronized between CRM and ERP applications as changes are made in both systems.
2) ERP Product Integration
Products in the ERP application must be replicated within the CRM application. This is absolutely necessary for creating sales quotes that become orders because those require replication to the ERP application, since the product part numbers that are in the quote must match the items ordered. Oftentimes organizations create mappings between high-level sales products used for forecasts and specific line items used in actual customer orders; other organizations have created much more complex product configuration solutions in their CRM that let reps order from complex bills of materials and optional items that are configured within the ERP application.
3) Quote and Order Management
Order management is only necessary if users must be able to upgrade existing quotes or forecasts to orders. Oftentimes organizations that utilize this type of integration use the CRM solution to make revenue forecasts and create customer quotes and proposals directly from the sales opportunities. Implementing an order management system within the CRM application requires the product integration to be in place, and some customization to the standard quoting and forecasting tools, particularly if complex product configuration is required.
4) Product/Order/Invoice Repository
As soon as an order has been completed, the order and invoice information can be replicated to the CRM application. Usually this integration is used to create a storage area of installed or purchased products that are linked to their corresponding orders and invoices.
Good news for Sage users, Sage CRM and Sage 300 ERP offer this functionality. Equation Technologies can help you integrate your Sage 300 ERP system with Sage CRM or an array of other systems that can benefit from an integration.
For help making your decision before integrating your CRM and ERP system, or answers to any questions contact Equation Technologies today.