Are you tired of pushing paper and waiting for approvals? Are you having to continually manually enter data? Are you paying storage fees for your physical documents? If you are, today's article will be beneficial to you.
Equation Tehcnologies can help solve these problems with a solution that is used with Sage 300 ERP (Accpac) that electronically stores documents, streamlines business processes using workflow, automates routing and distribution of all printed documents, reports and forms, and provides a way to instantly retrieve documents from a desktop computer or the internet.
Doc-link allows you to go paperless when implemented in any department for any process. This makes your business more cost-efficient, time-efficient, productive, green-friendly and extremely organized.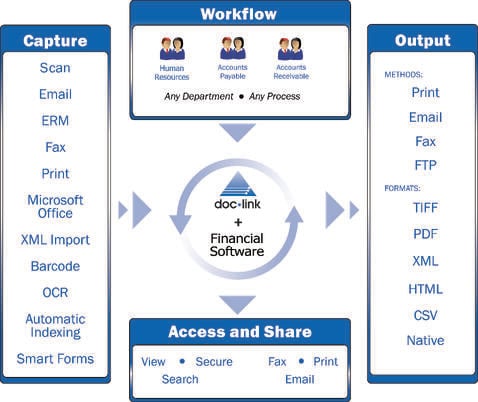 Accounts Payable Clerk
Better Control of Approvals
One of the tools in Doc-link that help with having better control of approvals is the electronic workflow. Doc-link routes documents digitally so there is increased visibility to those documents, and overall better control to that workflow process. This helps when an AP Clerk has a vendor on the phone and needs to find an invoice or other document quickly.
How to get approvals faster
Configure notification emails to send out documents to approve. The approval or denial of document can be made directly from the email message.
Eliminating Paper Filing
This is one of the biggest ROI gains for going digital. All documents are stored completely digitally, eliminating any physical storage of documents. This can save time, space and money for your business.
Accounting Manager
Visibility to Documents in Process
Doc-link workflow supervisor view gives the accounting manager visibility to every document that is currently out for approval.
Make better use of staff time
Reduce the amount of time spent on filing documents because there is a much more streamlined process. Your staff will spend much less time searching for documents because they can be searched for easily from the database.
CFO/Controller
ROI
Increase productivity
Cutting Costs
Paper and filling costs

Eliminate off-site storage fees

Save time normally spent filing & searching

Streamline & structure workflows.
Human Resources
Better security of confidential employee documents

Streamlined on-boarding process

Eliminate off-site-storage