If you're like most people in the business world, you've heard about "The Cloud" by now. Today we're going to talk about why The Cloud is the best place for your ERP system.
Because of their size and how complex they are, IT systems and servers are ideally suited for the cloud. Whether you want to move now, or sometime down the road, there are many good reasons for moving your business applications and data to the cloud.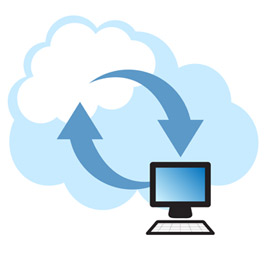 1. You want to reduce overhead costs of IT support
Enterprise system support costs can be very expensive when you have a full-time in-house employee, or even pay an outside IT consultant hourly. With a cloud based ERP or CRM system you will have no need to pay for technicians and IT support specialists that you aren't even fully utilizing.
2. Simplified Remote Access
With a Cloud-based ERP and/or CRM solutions, you will have built-in remote access to your applications with no added cost and complexity of managing a Virtual Private Network (VPN) or remote access servers/software.
If you are operating your business in multiple locations, or have home office workers, or sales people that are traveling constantly, you'll find many benefits from the convenience of mobile access to your ERP or CRM system – from any device or platform – without having to buy specialized equipment, hardware or software.
It's easy to see that advocates for cloud-based business solutions are doing more than just selling blue sky. In fact no matter what size your business, a little cloud cover may be just what you need.
3. You have no IT infrastructure
If you have a small business or a start up business that will need to upgrade from QuickBooks, it is likely that you will need heavy duty hardware and IT systems that can not only grow with your business, but accommodate the requirements of a new ERP or CRM system – and that can potentially be far out of the budget.
By choosing a Cloud solution, you will not have to make that risky investment (and no matter how wisely you choose, your infrastructure will eventually become obsolete). Instead, you will have enterprise-level IT driving larger profits and sustained growth at a price that is affordable.
Cloud hosted ERP and CRM solutions level the playing field and prevent little or no IT infrastructure from stunting the growth of your business.
For more information or answers to your questions on cloud hosting solutions for Sage 300 ERP, please contact Equation Technologies today.