When an organization has no ERP system, they are likely to be running on several different kinds of software that do not interact with each other. Customizations may also be difficult it in some cases. This is sure to negatively affect the optimized functioning of your organization's business activities and processes.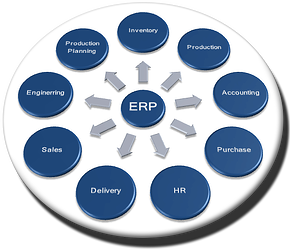 Your organization can face difficulties in many areas of its functions. The engineering design of the ERP software will be needed to be able to improve the product, and to follow the client's behavior and choices since the initial contact is very important. The administration of various receipts of interdependence will be quite complex, such as invoices regarding materials purchased, as well as general expenditures or salaries.
Every aspect of this changes when an ERP system is implemented. Information constantly flows and lets you follow your clients' processes at any time, no matter which part of the process they are going through. Purchases and expenditures are registered within a centralized database. This allows you to have more control over these certain activities. In this regard, an ERP system helps you to prevent the possibility of abuse.
A robust and integrated ERP system will allow for interactions of marketing, sales, quality control, products processes, supply lines, stocks and many other areas and it can be all in a single database. This will help to eliminate the occasional loss of and retyping errors. It will integrate all departments and functions across the organization in a single computer system and will be able to serve all those different departments' particular needs.
An ERP system is also helpful because it automates business processes by placing them into a useful format that becomes standardized and common for the entire organization. Furthermore, the ERP system could even be used between their suppliers and customers.
So what ERP system should I use?
Equation Technologies is certified Sage partner and specializes in Sage 300 ERP. Sage 300 ERP (Accpac) is a comprehensive business management solution designed to lower the total cost of ownership by supporting various technologies, databases, and operating systems. Sage 300 ERP is available in multiple editions and allows you to add users and adopt greater functionality as your business grows with built-in support for multiple languages and multicurrency transactions, so you can do business all around the world. Sage 300 ERP provides the power and tools necessary to give your business leverage and improve productivity, envision success, and accelerate growth.
For more information on why it is important to have an ERP system for your organization contact Equation Technologies today.