Registration for Sage Summit 2011, to be held at the Gaylord National Resort and Convention Center in Washington, D.C., July 10-15, 2011 is now officially open to Sage customers.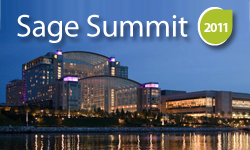 Sage Summit 2011 brings together Sage customers and Sage Business Partners in a common conference for the first time, creating even more opportunity for the entire business community to work together. The conference this year will offer new and exciting opportunities to:
Learn more with hands-on labs, new role-based tracks, certification courses, and presentations by top industry bloggers and media representatives
Network with the most diverse Sage community ever assembled, including partners, customers, product experts, Sage executives, exhibitors, and industry thought leaders
Attend the most expansive Sage trade show that's bigger than ever with more opportunities to connect with companies that are innovating with Sage products.
Download Full Customer Conference Guide
With more substantive learning, more meaningful networking, and more concrete takeaways for your business, this year's conference provides greater value than ever before. There's no better place to learn tips, techniques, and proven tactics that can be implemented right away.
The conference host this year is the Gaylord National just outside Washington DC. Hotel rates are available from $180 to $214 per night at four area hotels (all an easy walk to the main convention center).
Conference at a glance
Partner Days | July 10–15, 2011
The first two and a half days are dedicated to Sage business partners, consultants, and Sage Accountants Network members.
Customer Days | July 12–15, 2011
Customers arrive Day 3 of the conference for an intensive learning program. If you're a business leader, product user, or IT staffer for a company that runs a Sage solution, you'll find value from the moment you arrive. Business partners are invited to stay, which means more product know-how to answer your questions and more cross-pollination of ideas.