Well it's time to change it up and post a blog article that is in no way Accpac specific. That being said I think this subject matter is something we can all relate to….who here would like to improve their 'time management skills'?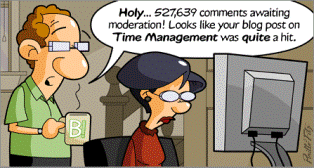 I would...for sure and possibly some of you folks out there might have some interest so I would like to share some details from a seminar I attended at Sage Summit last week presented by Chris DeVany, the founder and president of Pinnacle Performance Improvement Worldwide,a firm which focuses on management and organization development.
Chris did a great job presenting the material and I although I do not have a recording of the event I do have his Powerpoint from the presentation that details how to mange your day more effectively by learning how to better understand 'urgency' V's 'importance' in relation to tasks.
In the Powerpoint Presentation Chris will show you how to work even smarter by following the key steps detailed below.
Plan the day
Choose Top 3 Priorities
Review the day mid-day
Review the day at end of day
Plan for tomorrow before leaving