SageCRM & Accpac Together as One
Like apple pie and ice cream, SageCRM and Sage ERP Accpac are a perfect match. And with each new release, the two products move closer to becoming one. Not only is SageCRM now included free with Sage ERP Accpac (more on this below), but new workflow improvements and tighter integration are evidence of this perfect marriage between two fantastic products. Let's take a closer look.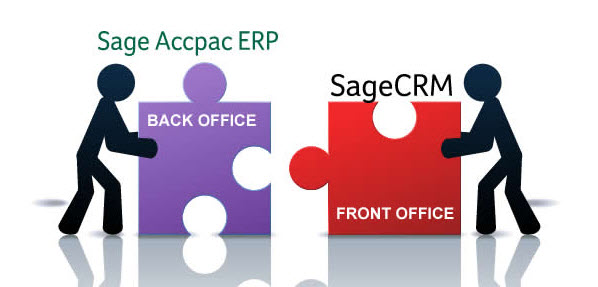 Based on feedback from customers like you, Sage ERP Accpac Version 6 now allows you to enter sales orders directly from within SageCRM - without opening the full Accpac order entry screens. This simplifies Quote-to-Order workflow by reducing the steps previously required to convert a prospect into a customer. Plus, your salespeople remain in the familiar SageCRM interface throughout the Quote-to-Order process without having to fumble around in Accpac screens.
Perhaps best of all, the improved workflow might just save you some money. That's because a Sage ERP Accpac user license is no longer required to process the order.
What's Yours is Mine ...
SageCRM is already a true web-based product. However, Sage ERP Accpac is not far behind, transforming itself from a traditional Windows/Desktop application to a web application with each new release.
And while SageCRM has always displayed a fair amount of customer and transactional data that originates in the Accpac database, the integration will become even tighter as both products move to the same web-based platform.
In fact, Accpac 6.0 rolled out some newly-styled web-based screens that look and feel just like SageCRM. That way, your salespeople won't know whether they're running SageCRM or Accpac … it all just happens behind the scenes. Sage has also taken measures to ensure that the workflow is continuous, data transfers smoothly from one step to the next, and information is automatically synchronized in both products.
That means everyone in your company is working from the same data and following the same workflow. Multiple databases, external spreadsheets, and disconnected islands of data are a thing of the past. Accpac data is available in SageCRM and SageCRM data is available in Accpac.
I Now Pronounce You … Free
Did you know that SageCRM is already installed on your system and ready to use for free? As of Sage ERP Accpac Version 5.6, a free user license for SageCRM is included. After all, you wouldn't buy a car without giving it a test drive first, right?
With the free SageCRM user license, you can get your hands dirty, kick the tires, and take SageCRM for a test drive before determining whether it's the right technology for you.
Contact Us to learn more about SageCRM or Accpac 6.0.