Yes for a limited time Sage is offering a free Sage CRM User if you add three (3) Sage CRM user licenses. As most Accpac users may not be aware, if you are current on your Sage Business care Plan you already have received the SageCRM Server and one free CRM user if you are running Accpac V5.6 or later. This promo offer gives you the opportunity to increase the number of CRM users at a discounted price.
Sage CRM integrates with your Accpac back-end accounting application. Integration with Sage ERP products delivers end-to-end business integration out-of-the-box. The integration allow users to view Accounts Receivable, Accounts Payable, Order Entry, Project Job Cost as well as Return Merchandize Authorization modules. This gives sales, marketing, customer services and other front-office staff a true 360 degree view of customers across front- and back-office functions. Users will be able to look up customer acccount information, orders as well as vendors information in Sage CRM without having to log into the back-end accounting system. Best of all it is accessible via the internet.
Check out the screenshots below:
Accounts Receivable Invoice lookup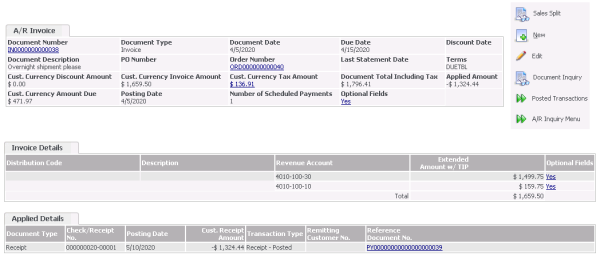 Customer Statistics at-a-glance
Order Entry Sales History

Order Entry Pending Shipment

Interested with what you have seen so far? Hurry. This is a limited time offer* and is only valid until March 23, 2012.
*Standard Sage Business Care Plan maintenance fee applies. This offer cannot be combined with any other offer. You must have a current or active Sage Business Care Plan in order to take advantage of this offer.