How to Increase Efficiency & Reduce Costs in Accounts Payable with ACH for Sage 300 ERP
If your business still "cuts checks" the old-fashioned way, you already know that Accounts Payable processing can be highly resource-intensive. With Sage 300 ERP, Accounts Payable can combine the efficiency of ACH with the security of Positive Pay. Here's a look at what ACH and Positive Pay means for AP efficiency.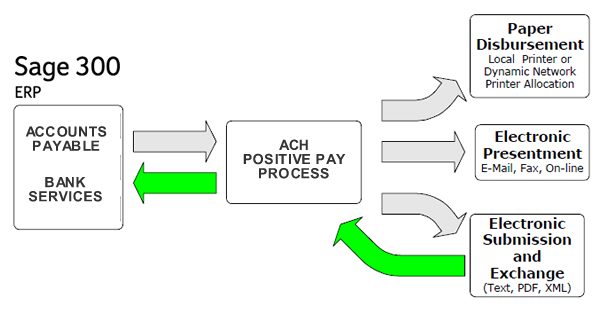 What is ACH?
ACH is an acronym that stands for Automated Clearing House. The ACH network is a secure payment transfer system that connects banks all over theU.S., making it easy for them to transfer funds amongst one another while relying on a common set of standards. It represents an important link in the Electronic Funds Transfer (EFT) process that acts as a sort of escrow for payments as they await clearance for their financial banking destination.
The new ACH feature in Accounts Payable allows you to use EFT as an alternative to issuing paper checks for payment. That means paying vendors and taking advantage of early payment discounts is easier and faster than ever. Plus, you eliminate the complications and cost of:
Processing paper checks, printing, stuffing, and mailing
Purchasing and securing paper check stock
Approvals & signatures that can delay paper processing
Since ACH is governed by strict rules that regulate electronic payments, you can rest assured that your electronic banking transactions are totally secure.
What is Positive Pay?
Positive Pay is essentially a tool for fraud prevention and security. Offered by most banks, it's a service that matches the check number, account number, and dollar amount of each check presented for payment against a list of checks that have been previously authorized by your company. All three components of the check must match the exact details of the authorized list or the bank will not pay.
With Positive Pay for Sage 300 ERP, an electronic file is generated and sent to the bank each day that checks are written. That file contains information necessary for the bank to match your authorized payments. In the event that a check is presented that does not match the list, the bank will send an image of the item to you for manual authorization to pay or return the check.