Despite the increasing awareness of new technolgies in cloud computing, mobile/smart devices, 31% of small businesses are still managing their day-to-day functions on paper and about 5% are using multiple apps. Here is a breakdown of 4 popular technologies small bsuiness owners are using to conduct different tasks in their organizations today....which category do you fall into?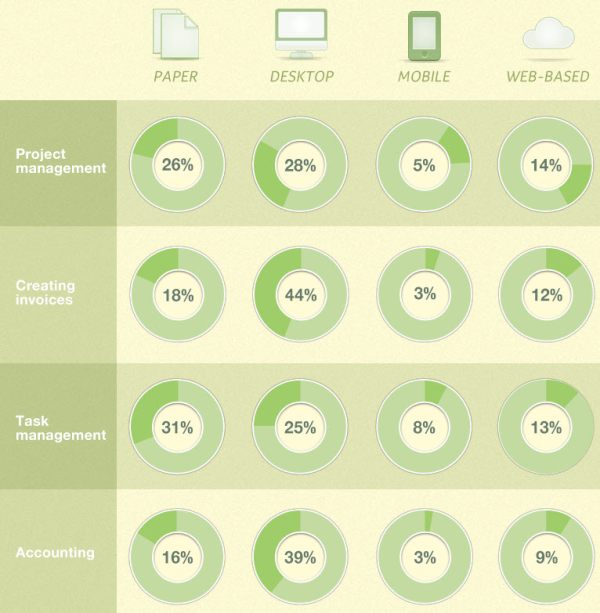 Sage Software conducted a recent survey to examined how entrepreneurs in businesses with 0 to 9 employees manage their companies and use technology, how many different systems they have in place and how much time they spend on administrative tasks. Survey results discovered that although the small business owners desire to manage their operations more efficiently with new technology applications and devices, these tools are still not widely adopted.
Roadblocks to billable work
A break down of activities that are responsible for keeping business owners from completing billable work:
65% Marketing and finding new clients
52% Keeping up with emails
51% Invoicing, bookkeeping and other records management
37% Managing employees and contractors
34% Review and responding to social media
Too many disconnected apps
30% of business owners are using more than 3 applications to manage the daily functions in their organizations. Approximately 5% are using 7 or more applications!! These include:
Email
Contact Management
Calendaring, scheduling
Project Management
Accounting (invoicing, payments)
Task Management
Time Tracking
The Cost of Doing Business
How much money small businesses spend annually on sofwtare for desktop, mobile and web applications. These expenses include purchases, upgrade fees, monthly subscriptions and support fees.
45% Spend more than $500 per year
23% Spend between $0 - $49 per year
9% Spend between $100 - $149 per year
8% Spend between $150 - $249 per year
8% Spend between $250 - $499 per year
7% Spend between $50 - $99 per year
The final question concerning "What would you change about the apps you use today?" 35% responded "Use one app that performs many functions".
NOTE: Source "Sage One multiple app study, conducted by Sage Software Inc."
View infographic survey results here.