Offer your employees a cost-effective and secure way to receive their paycheck by providing the new Payroll PayCard. It works exactly like a Debit Card. It is accepted worldwide and will enhance your employees' purchasing power. Most importantly, it is safe, secure and saves you and your employees' time and money!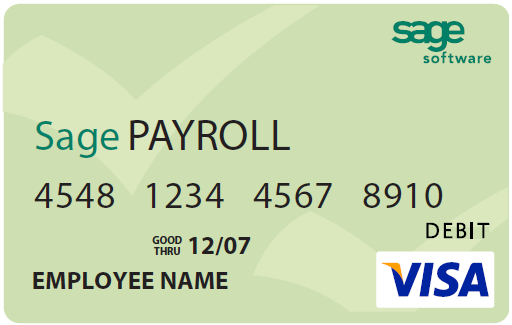 Benefits to Employers
The Sage Payroll PayCard works the same way as a direct deposit transaction and requires no
additional systems, software, or hardware. Your company can incorporate the Sage Payroll PayCard program into your existing process regardless of the payroll software or service you currently use. If your company offers direct deposit, you can also offer the Sage Payroll PayCard. It's that easy!
Save money
• Reduce costs associated with issuing paper paychecks, including paper check forms, postage, and overnight shipping fees.
• Reduce or eliminate stop payment fees for lost or stolen checks, which can cost an average of $8–$10 per check.
Minimize check fraud
• Lower the chances of check duplication and forgery.
Provide an additional voluntary employee benefit
• Improve employee satisfaction and retention by offering the convenience and security of the Sage Payroll PayCard.
• American Payroll Association study: 55% of employees are more positive about their employer when provided the option of a payroll paycard.
Add convenience
• Increase employee productivity by eliminating time-consuming trips to check-cashing businesses or banks.
• Easy delivery of final pay for terminated employees.
Benefits to Employees
Sage Payroll PayCard represents a safe, secure way for employees to access their payroll dollars. In addition, Sage Payroll PayCard may be the only Visa card some employees qualify for, thus building loyalty and increasing retention.
Flexible, Safe & Secure
• Eliminates the need to carry cash and prevents paper checks from getting lost or stolen. The Sage Payroll PayCard reduces the risk of unauthorized use and provides fraud protection.
• Cards are accepted worldwide and are especially useful for those with family members in different locations.
Convenience, No-hassle banking
• Employees have 24/7 access to funds and immediate availability of money in their account on payday.
• Can be combined with direct deposit for more flexible money management, especially for families budgeting for teen and college allowances, elderly family members, and so on.
Saves money
• Eliminates costly transaction fees associated with money orders and check cashing businesses, services used by most "unbanked" employees.
Enhanced purchasing power
• Allows access to online purchasing and provides ability to pay recurring bills online, such as cell phone, rent, and utilities.
How to Enroll
This is truly a "Win-Win" situation ... with the Sage Payroll PayCard, you can save money while offering your employees additional benefits and convenience!
Enrollment is simple:
Complete the enrollment form
Submit to Sage
Access the Employer website
Enter employee(s) information to enroll
An email is generated with link to employees' DDA and Routing/Transit numbers for payroll setup
Verify employee has received card (within 5-7 business days)
Enter DDA and Routing/Transit numbers into your payroll system just like you would for direct deposit to initiate payment to cards
Employees' pay distributed to Sage Payroll PayCard.
Learn more about this new benefit today!