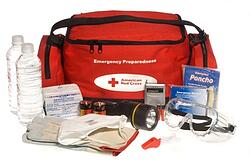 In the past couple of years, natural disasters seem to have become more frequent and powerful. Whether your business is located along the hurricane-damaged East Coast, tornado alley in the Midwest, or right here in "earthquake country" California, it's now more critical than ever to prepare your company for natural disasters; or even the more common, yet unexpected emergencies like fire, theft, or data loss.
A recent Small Business Disaster Preparedness Study conducted by Sage revealed that only "39 percent ofU.S. small businesses have a formal emergency or disaster preparedness plan and the majority back up their financial data on-site." And while backing up data on-site is a start, this doesn't protect a company's vital financial data from fires, floods, or other location damaging emergencies that could have serious impact on your operations. Here are 7 tips to help your company prepare for, deal with, and recovery from any emergency situation.
1. The Best Defense is a Good Offense
It's impossible to predict when a disaster is going to occur. However, outlining the main issues your business could face, and the best ways to respond to such crises, could prevent chaos and confusion down the road.
Be sure to draft up plans for both natural and man-made disasters and share your general action plan with all employees. Share company sensitive information with only those who need to know it.
2. Making a Recovery
If a disaster was to occur, you'll need a good disaster recovery plan (DRP) to get your company back to business.
A good DRP includes: preparations for the resumption of applications, data, hardware, communications (such as networking), and other IT infrastructure.
Get in the habit of backing up your information - whether it's stored on-site, off-site, or in the cloud - on a regular basis (we recommend about 2x a week). This could be the difference between recovering from a disaster and getting to work quickly versus a devastating blow that your company never recovers from.
*Note: If you live in an area prone to natural disasters, such as earthquakes or tornados, an off-site server or the cloud may be your best option for making a speedy recovery.
3. Nothing is Forever
While it's convenient that banks save digital statements, it's best not to rely on your bank in times of an emergency. Did you know that many banks only keep digital statements for 5 years? After that, they are unrecoverable.
Download and store your monthly statements (don't forget to back them up!) or use software that does this for you.
4. Lawyer Up
Hiring a lawyer has become a critical component of running a business. A relationship with a lawyer that knows the nature of your business can help you through difficult situations such as an accident in your facility, a product recall, or dealing with insurance after a natural disaster.
5. Insure Your Business
Even though disasters may seem too few and far between to buy insurance, you'll be glad your business is covered if a situation does take place. Simple things like investing in a water-proof safe or a building security system won't hurt either.
6. In an Emergency Contact _____ .
It's extremely important that more than one person knows the location of important documents, and has the necessary passwords to access critical information. Select trusted individual who you can rely on to implement the emergency plan and handle financial/legal matters in the event you are unable to.
7. Bring in a Professional
When in doubt, hire a disaster preparedness professional. If you are unsure of what potential disasters to prepare for, how to develop an emergency plan, or how to plan for a recovery, it's best to hire a consultant. They will be able to point out possible crises you may not have considered and inform you of the best solutions.
Are You a Sage 300 ERP Customer?
Don't what for a disaster to strike to find out if your ERP system and database backups are running correctly! Equation Technologies offers a free data backup audit to all Sage 300 ERP customers looking for a solid plan and peace of mind. We will audit your procedures to make sure that Sage 300 backups are running correctly and that your data is safe and sound.
Feel free to contact us with any questions about preparing your company for an emergency or if you need Sage ERP training, support, or other guidance.