Error: Unexpected error from external database driver
Description:
When importing an Excel (xls) file from an external system into Sage 300 modules (i.e. Order Entry or Payroll), getting the error message:
"Unexpected error from external database driver. Source:1101:40-107180004005.503.914"
Cause:
Confirmed there was a Microsoft Security Update for Windows 7.
2017-10 Security Monthly Quality Rollup for Windows 7 for x86-based Systems (KB4041681)
Workaround:
Use XLSB (Excel Binary) or XLSX (Excel 2007) instead of XLS (Excel 2000). Go File > Save As in Excel and choose either XLSB or XLSX.
Note:
If file is changed to .xlxs or xlxb, use File Type 'Excel 2007' or Excel 2007 Binary on import.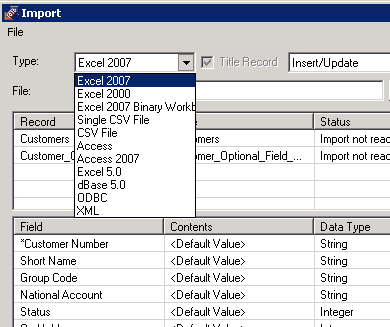 Need Help? Speak with a Sage 300 Expert
If you're still having trouble or if you have questions about this and other Sage 300 errors, click below to leave us a note. A Sage 300 expert will follow up and help to get the problem solved.