Today you have logged into your Sage 300 system and are seeing this Expired Licenses message saying "Your subscription license has expired for the following programs:" which looks like this: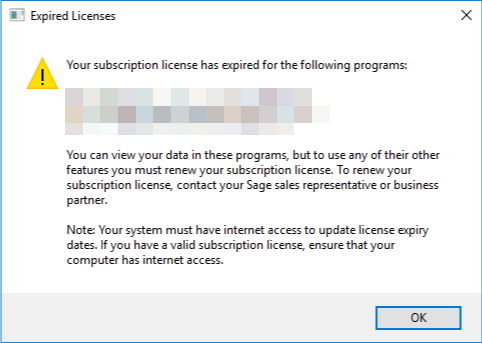 The message indicates that you can view your data in these programs, but to use any of their other features you must renew your subscription license.
Or, you may get an error that says "A problem occurred and a valid license for this product could not be found". You know your licenses are valid, and yet this message appears and some of your modules have become inaccessible.
With the release of Sage 300c V2020, Sage has updated their Entitlements Server and is now requiring all versions of Sage, 2018, 2019, and 2020 to be on the latest product update and to have the version 2020 serial number for System Manager set in the License Manager (regardless of the version you are using).
How can this issue be resolved? Check your System Information to see your version and product update. Go to Help / About Sage / System Information.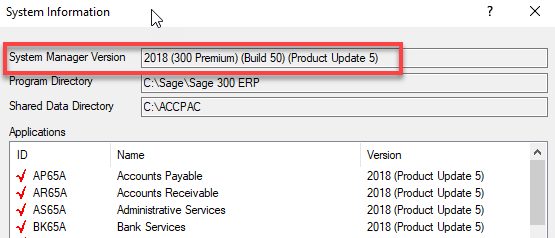 The most recent product updates are:
V2018 PU6
V2019 PU3
V2020
If your system is not current, we will need to update you to the most recent product update. That is the first step.
The second step is to back up your current license files and the Entitlements.xml file. From the System Information screen, note the Shared Data Directory. This is where the license files are stored. Make a new folder and copy all the license files into it to store them as a backup.
The third step is to update the System Manager serial number to the V2020 code. Go to Help / Licenses / License Manager, on the License Information tab and click on Change, enter your new SM V2020 Serial Number and then Refresh. (your SM serial number can be found on the Sage Customer Portal, or Equation can retrieve it for you)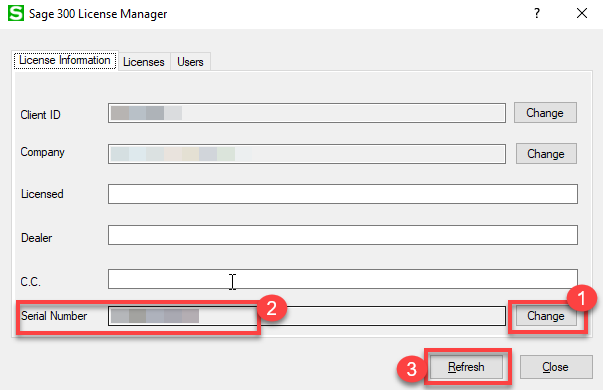 Logout of Sage and back in, and the expired message should no longer appear.
If you need assistance with any of these steps, please give us a call at 866.436.3530 or email support@equationtech.us. Let us help shorten your time of inconvenience and get you back up and running at full capacity!