Is your company still using spreadsheets to manage and track your fixed assets? Spreadsheets are essential business tools that can help to organize and categorize your data into logical formats. However, if we compare spreadsheets versus an automated system, in the case of capital assets we will see that spreadsheets pose some risk to your business. Are you experiencing any of these symptoms?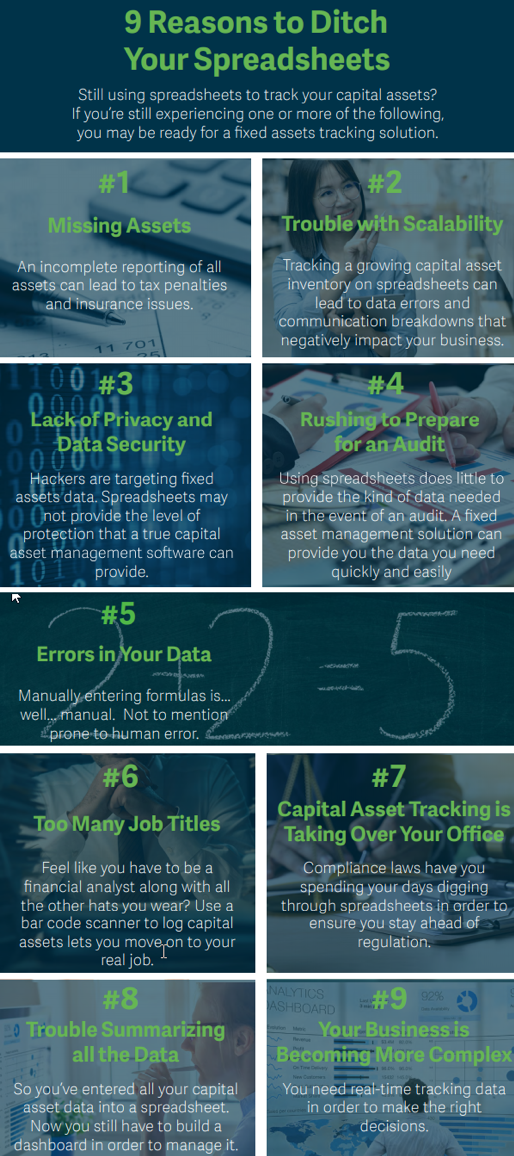 If you answered 'yes' to any of these symptoms, start by watching the Death to Spreadsheets Webinar Series to help you examine your current processes and find out how an automated solution like SAGE FIXED ASSETS can help. Over 80% of Fortune 500 companies list fixed assets as the largest line item on their balance sheets. It is important to look for ways to manage and track capital assets more efficiently and accurately throughout every step of the asset life cycle.
Sage Fixed Assets management solutions are the perfect way to help you plan, depreciate, track, and report on your fixed assets. Getting your fixed assets under control doesn't have to be difficult. This solution will
save time
improve processes
manage resources more effectively
remain compliant as regulatory requirements shift
And… not only can Sage Fixed Assets help make your fixed asset management process more efficient and accurate; it can save you money in the process! Enter your company specific information into Sage's ROI Calculator to find out how Sage Fixed Assets can help your bottom line!
In this whitepaper, from Sage and the Aberdeen Group, learn how a fixed management solution can enable you to overcome risks and accelerate returns. Learn to leverage best-in-class software to handle the most pressing challenges in fixed asset management:
Version control
Lack of security
Manual input
Reporting
Broken formulas
Inaccurate data
Does your company have Zombie assets? Zombie assets are assets that exist within the company but aren't added into a depreciation schedule on your balance sheet. Carrying these assets can result in overpayment of taxes. Sage has provided an e-guide to help understand the technology features required for eliminating and preventing zombie assets.
There are three Sage Fixed Assets products to help you gain control over your assets, throughout their entire life cycle.
Sage Fixed Assets – Planning:

designed to help you account for everything, and allows you to manage as many construction-in-progress projects as you need.

When the assets are ready for use, they can easily be created in Sage Fixed Assets – Depreciation


Sage Fixed Assets – Depreciation:

helps manage the entire fixed-asset life cycle, from acquisition to transfers and disposals. This module will assist you to prepare your year-end financials, allocate costs, calculate depreciation, eliminate redundant data entry, and store digital images of key asset records


Sage Fixed Assets – Tracking:

will walk you through every step of the inventory tracking process and help eliminate lost or stolen assets and reduce insurance and tax overpayments.

Uses state of the art barcode readers and customizable fields to assist with data entry notes and images. Integrates with Sage Fixed Assets – Depreciation.
Contact Equation to talk with one of our Sage Fixed Assets specialists. 866-436-3530. Let us help you simplify and streamline your fixed asset management.