What's the Difference?
Like some customers, you're probably wondering what's the difference between Sage 300 "Classic" (formerly Sage Accpac) and Sage 300cloud. And more importantly, whether it makes sense to migrate to the newer product. In this article, we'll help answer those questions.
The Major Differences
We'll start by explaining a couple of major differences. First, Sage 300cloud is based on subscription pricing which means you pay-as-you-go, as opposed to the larger upfront perpetual license and maintenance costs of Sage 300 Classic. Second, Sage 300cloud features a more modern interface that's easier to use, customize, and access in a web browser. Lastly, Sage 300cloud integrates with an ecosystem of cloud-connected apps that significantly expand features and system capabilities.
Expanded Functionality
While the core modules like General Ledger, Accounts Receivable, Purchasing, and Inventory function similarly in both products, Sage 300cloud offers a collection of added features and integrates with cloud apps that aren't available with Sage 300 Classic. Here's a look at just a few: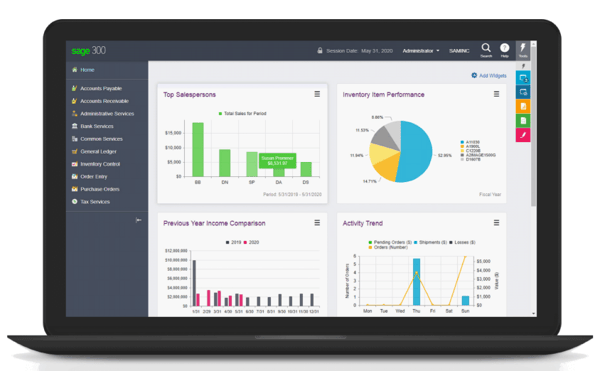 Sage Inventory Advisor Basic
Connects to your Sage 300cloud data to help you reduce forecasting time, optimize inventory levels, streamline purchasing, and achieve optimal fill rates.
Enhanced Sage CRM Integration
Tighter integration with Sage CRM includes more bi-directional synch options and enhanced workflows.
Sage AP Automation
An integrated AP automation suite designed to simplify and remove paper and manual tasks from processing, approval, and payment of accounts payable invoices.
Added Functionality
Additional modules and functionality in Sage 300cloud that's not available in the classic version include:
Modernized web screens
Global database search
Customized inquiries
AP Withholding and reverse charges
Notes feature
Other Questions About Sage 300cloud?
Contact us if you have more questions about what makes Sage 300cloud different or to learn more about migrating from Sage 300 Classic.