Sage 300 & Windows 10 Upgrade Considerations & FAQ's
NOTE: We have updated some information in this article to reflect current support state for Sage 300.
As you may, or may not have heard, Microsoft is readying the release of its next desktop operating system Windows 10 for general availability. So, what does this mean for Sage 300 ERP (Accpac) customers?
Microsoft Windows 10 is Now Available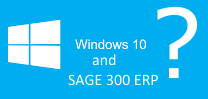 Ordinarily, this type of event is one where Sage 300 ERP customers must in some way seek out, or make some effort to avail themselves to a new version of Windows, as this traditionally required purchasing either an upgrade copy of the software, or a new computer.
Things have changed!
With Windows 10, currently licensed users of Windows 7 (SP1), and Windows 8 (Enterprise versions are exempt) have been receiving Windows Updates (and specifically KB3035583) that will pave the way for users to opt-in for an automatic upgrade to Windows 10, when Microsoft schedules the release.
Since the intent, is to make the opt-in and upgrade to Windows 10 as easy as possible for end users and as has always been the case, Sage 300 ERP (and in the same vein Sage CRM) are only officially supported for operating systems listed in the Sage 300 compatibility guide.
Should I Update to Windows 10?
SPOILER ALERT: Windows 10 is not yet listed
Therefore, in the interest of putting discretion before valor, we would urge you and your fellow Sage 300 user colleagues to not opt into this automatic upgrade, until Windows 10 has been tested and added to the official Sage 300 compatibility guide.
UDPATE: Windows 10 is now supported for Sage 300 version 2014 and 2016 for on premise installs with some exceptions below:
Above relates to Windows 10 client (server not released by MS until 2016).
IE 11 included in Windows 10 is fully supported (in Compatibility Mode).
Sage 300 does not support Windows Edge from Windows 10 as it does not support Active X plugins.
Sage 300 Online RDS does not support Windows Edge as it does not support Active X.
Sage CRM Integration does not support Windows Edge as it does not support Active X.
If you would like to read more on this subject, this is a pretty good synopsis by Computerworld.
Need Help Making the Upgrades?
Should you have any questions or concerns regarding Windows 10 and Sage 300 ERP, please do not hesitate to reach out to us and a member of our team will be happy to help you.