TPAC 2020 was held March 1 – 3 at the River Rock Hotel and Casino in Richmond, BC and it was a huge success! Almost 150 delegates and exhibitors were in attendance to display and learn about new products that are useful in providing solutions for clients that work with Sage 300 or Sage CRM.
Equation Technologies works very closely with Orchid Systems and their development team to satisfy many needs that our customers have, and Orchid has recognized Equation with a Partner Excellence Award. Accepting the award on behalf of the Equation team are Scott Davies, Bonnie Wittmeier, and Doug Bilderback.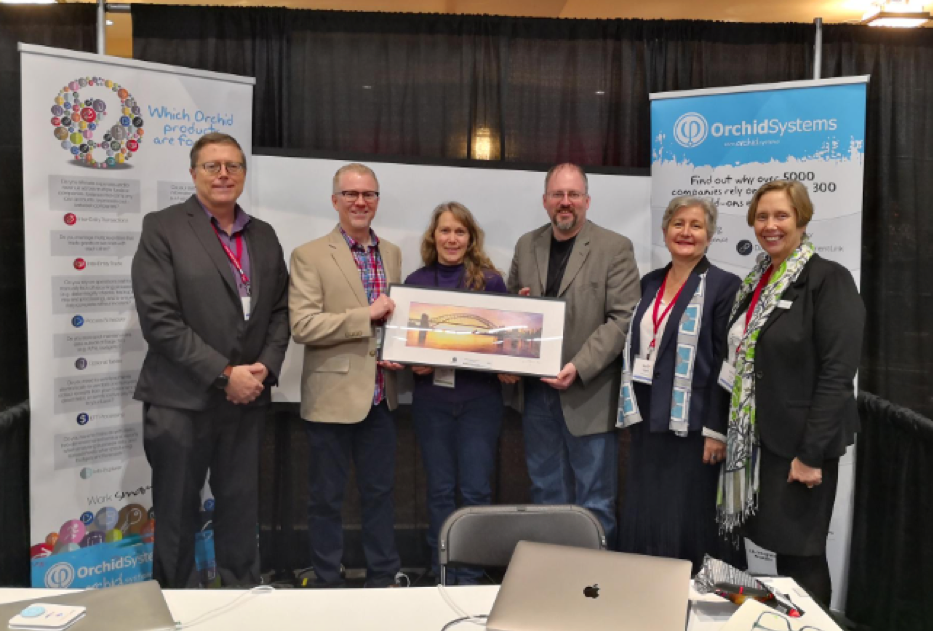 The event launched with pre-conference training and a ski day at Whistler. Breakout sessions were informative, and the exhibits were available throughout the full 3-day program. There was quite a range of products displayed including:
AutoSimply – Manufacturing: an easy-to-use manufacturing solution for small to medium sized businesses who need a comprehensive manufacturing workflow for made to order and made to stock finished goods.
DataSelf Analytics – Business Intelligence: Self-service business intelligence starts with over 5000 templates for reports, dashboards and KPIs. Over a million ways to slice and dice your data using Data Warehousing, Tableau and Power BI
Fraxion – Spend Management: a cloud procurement solution that simplifies the procure-to-pay process and removes the risk from approvals, ensuring that all purchases are authorized and tracked. Proactive spend management.
Norming – Resource Manager: helps companies with staff that are working off-site on project-based jobs, incurring expenses and providing services to customers. This Time, Expense & Leave tracking system fully integrates with PJC, Payroll, AR, AP & GL. Norming also supports an Asset Management Suite and Security Suite of products.
Vineyardsoft - Sage Alerts & Workflow: Keep informed with automated alerts about any business conditions such as overdue invoices, expiring contracts, or any critical issues that you define.
Tairox – Productivity Tools: Extend the functionality of Sage 300 with hundreds of features added with the productivity tools for GL, AR, AP, IC, PO, OE and Payroll. Tairox also offers Copy Company, Download (fx) Rates, Fast Clear History and Fast Data Integrity tools as well as others!
Technisoft – Service Manager: A solution for field service, contracting, job cost management preventative maintenance or general equipment servicing.
And…. Orchid Systems – Suite of products includes:
EFT – streamline payments and receipts via electronic funds transfer directly to and from your bank
RMA – manage product returns & repairs from within your Sage 300 system
Bin Tracking – track inventory items stored in multiple bins, shelves, containers or pallets
Extender- extend the functionality of Sage 300 in many ways, customizing business logic without complex code;
And more!
The Sage 300 Independent Software Vendors play a significant role in enhancing the functionality and productivity of Sage 300. If there is any feature that you are missing in your Sage 300 system, please let us know! Without a doubt, there is a third-party add-on that will give you the component that you are looking for.