How do I find an ERP consultant that I can count on for a successful implementation?
Recommendation from a trusted advisor - Do you have a referral to an ERP consultant from a trusted business advisor? This advisor could be a CPA, an industry peer, or even somebody with trusted experience and information. A business is most confident and comfortable when following another business that has already been successful. With blind RFP software selection processes, it is rare to obtain a trusted advisor recommendation ahead of time. However, prospective clients are still able to get a satisfactory recommendation after identifying respondents and before investing in the wrong professional service organization.
Experience with a similar industry or business process - Does the prospective ERP consultant have any experience in the company's industry or a business with similar processes? It's not exactly necessary for the consultant to be experienced with a direct peer company, but it may be sufficient to have worked in an industry that faces similar business process automation challenges.
Credentialed professionals - Is the prospective ERP consultant a certified specialists in a specific technology or business process? Do they have industry experience with such positions as a CFO or COO? Do they have CPAs, MBAs, or other advanced degree holders available to be assigned to the account?
Results oriented - Does the prospective ERP consultant cater to the desired results? Do they fully understand the results necessary for the business and focus on a plan to obtain these results, propose prices in terms of results, and offer a guarantee of results? The client can evaluate with confidence that the higher prices offered by professionals who price, deliver and guarantee results as long as these necessary results have been adequately articulated and comprehended.
Repeatable methodologies - Have the prospective ERP consultant explain the methodology that they use to achieve repeatable implementation success. Have them walk you through the whole process. Does it make sense to you? Ask them: "Do I think it will work for me and my company?".
The consulting firm with which the prospective client chooses to do the ERP implementation can have more of an impact on their investment than the actual system implemented.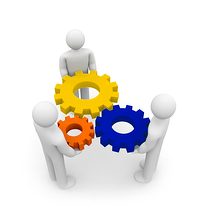 The number one predictor of success or failure of an ERP implementation is the knowledge, experience and methodology used by the business partner implementing the system.
It's important to consider the consulting firm's ability to provide the initial and ongoing training and support required to make a productive beginning in the use of the a new ERP system. Equation Technologies is a certified Sage partner with an expertise in Sage 300 ERP systems. For more information on Equation Technologies, our references, experience, credentials and methodologies etc., please contact us for a free ERP consultation.