Sage 300 (Accpac) has very extensive Import and Export capabilities to most of the data entry screens. This blog article will show you how to better filter your Sage 300 export files to show only the data you need.
When exporting data, it is often helpful to filter the data before it gets into Excel, so that only the types of records that are desired are exported. Sage allows for the selection of specific records and also the building of complex criteria for exporting both records and transactions. Two or more criteria can be specified, and they can be used together with the AND function or they can be used as an OR scenario. A combination of both is also possible.
For example, if a user is looking for customers whose business is located in California, but does not want the inactive customers, the following criteria can be setup: From the Export screen, highlight the Customers field and click on Set Criteria.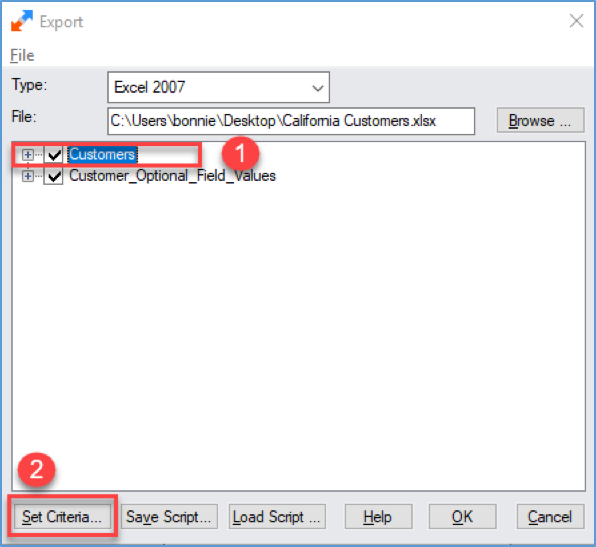 Select the Column State/Prov. and click Add. Click the white box next to Criteria and enter CA. Then select the column Status and enter criteria of Active.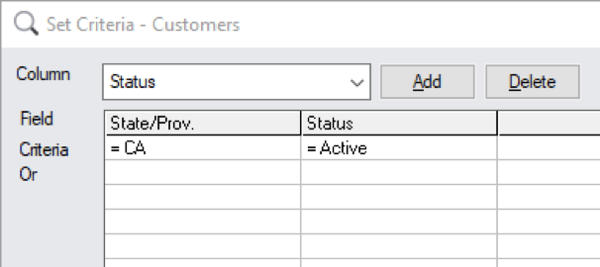 This is an AND statement where the customer State is CA and the status is 'active'.
If a user is looking for customers from California or Oregon, this is an OR statement: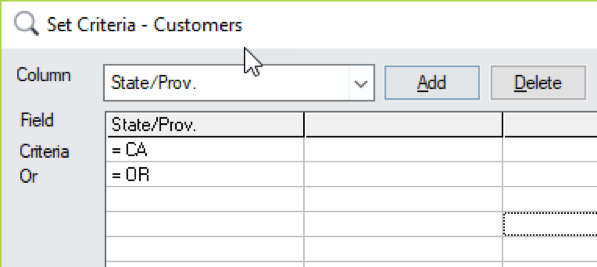 If a user is looking for active customers from California or Oregon, this is a combination AND OR statement: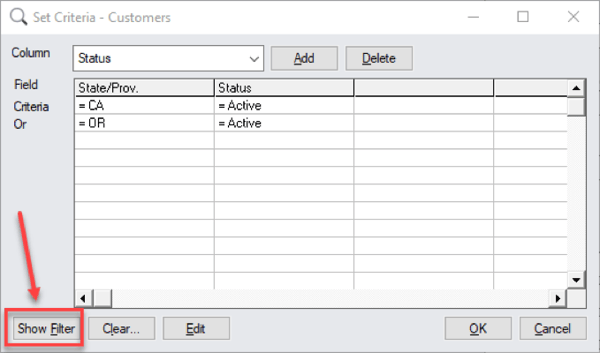 The selection can be verified by checking it as a SQL statement, by clicking on the Show Filter button and the SQL statement is displayed:

These complex selection criteria are not only available when exporting, but also available in any finder when searching for records onscreen. This functionality is available in all modules, anywhere an export is possible. Using the AND / OR functions, gives the user endless possibilities for filtering and narrowing down the selection for any export of data.
This is only one of many great export and import tips that we are going to review at our monthly webinar training session on October 17, 2018 – Data Importing & Exporting in Sage 300. Register now! We'd love to see you there.
Clients currently on Equation's Service Level Agreement (SLA) are entitled to attend the monthly webinars to a single computer connection per session, at no charge. Login instructions to the webinar will be emailed to registered attendee prior to the webinar session.
The cost of the webinar session for non-SLA customers without a promo code is $80. Signup is based on each GoToWebinar connection; meaning if one workstation connects with multiple users gathered around the workstation it counts as 1 user.
Contact us if you have questions about importing or exporting into Sage 300. For routine imports or exports, a custom macro may be a good option. Macros are an efficient way to bring large amounts of data into the system on a regular basis. This can drastically reduce the time needed to enter payables or receivables, reconcile bank statements, import timecards or perform any other repetitive task that can be entered into a standard import or export file format.