Using the QuickBooks accounting system might have suited your business well in the beginning, but things change. You may now have more human resources, more capital resources, more clients, and a more complex business than when you started. There comes a time when all those spreadsheets, hand-written notes and documents, and other workarounds you've began using to compensate for a lack of functionality in the QuickBooks system just aren't working anymore. It is in your best interest to consider migrating to a system that is advanced enough to deal with your business how it is today and how it will become in the future. If you're ready to move to a more powerful and robust account system, Sage 300 ERP may be the one for you.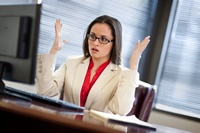 7 reasons to upgrade from QuickBooks to Sage 300 ERP
More data access to make better, faster decisions: Sage 300 ERP features at-a-glance dashboards and customizable reporting and analytics which allow you to focus on the most important details when it comes to managing your business. With this data easily available, you are able to make faster decisions, stay within budget, and identify any new revenue and profit opportunities to help your business grow.
Confidence in your accounting: Sage 300 is different than Quickbooks because it was designed to handle complex accounting needs of growing businesses. By eliminating spreadsheets and other dated practices, you will have more accurate data about your company's finances giving you confidence in the case of an audit, and the tools needed to speed up financial close.
Sage 300 ERP keeps future growth in mind: You're business is growing, so it's hard to say where you could be three, five, or ten years from now. Sage 300 ERP grows with you and easily expands to fit your needs as they come up. The modular design of Sage 300 allows businesses to pick the functionality that best fits their business needs now and as your needs change, you can easily add more users and modules.

You can now work the way that you want to: Sage 300 has flexibility that allows user-level personalization and role-based dashboards so that you have immediate access to the data you want and need to be at your best.
It's simple to use: We understand that the move from QuickBooks to Sage 300 ERP can be intimidating. This is considering that a larger system means a more complex one, but not when it comes to user experiences. Sage 300 is definitely more complex under the surface to help you manage your more complex business needs, but this does not mean it is more complex to use. Unlike other ERP systems, Sage 300 has an intuitive, user-centered design so you can focus on your work, not on figuring out how to use the software.
Increased visibility and tracking: With Sage 300 ERP you'll be able to see more than financial data. You can see up-to-the minute data across your organization; from financial to shop-floor and anything in between. You will be able to track inventory in any location(s).
Streamline processes in the back office with integration and automation: Put an end to wasting time and money on manual data entry and other non-value added manual processes. Seamless integration between CRM, ecommerce, and financials allows you to eliminate data entry errors and operate an end-to-end business system, automating and integrating everything from accounts receivable management to sales orders, payroll and everything else.
There is much more to learn and know about the move from Quickbooks to Sage 300 ERP (Accpac). For answers to your questions or help with this process, contact Equation Technologies today. Equation Technologies is a certified Sage partner and specializes in Sage 300 ERP.