Once again, Sage CRM has been honored by ISM Inc., as a Top 15 CRM Small and Medium Business Software Award winner for 2015/16.*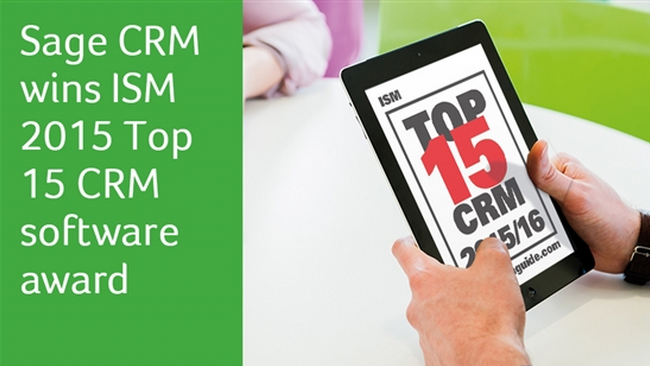 Driving Sales and Business Productivity

Sage CRM helps over 15,000 small and medium-sized companies world-wide, to drive business productivity, accelerate sales and interact with customers in new and innovative ways. Now, companies can further grow their business by leveraging the power of social media and taking advantage of the latest mobile developments.
Whether in the cloud, or on premise, its quick to deploy and can be easily adapted to fit a company's unique business needs and processes.
According to Barton Goldenberg, founder and president of ISM, "the winners of this award are key influencers in the CRM community". The Top 15 winners are available for purchase on ISM's website.

With the introduction Sage CRM 7.3 and its ready to use Dashboards, Workflow, Alerts and Escalation, companies can streamline and optimize every aspect of client interacts, from sales to service.

Discover the secrets of highly effective companies
If you're interested in learning more about how other small to medium sized businesses have utilized CRM systems to revamp their sales approach, subscribe to our email series. You can find more information about it here.
For more information on Sage CRM and how it can help your organization, please contact us.

*The ISM Top 15 CRM Awards are now presented bi-yearly. The next award selections announcement will be in 2017.