If you are like most of us, you are not using your software to its maximum potential. We have our software, and we immediately learn the basics of what we need to do and how to do it, and most of us are too busy to spend time exploring anything extra. But what if the things you don't know are costing you? What if the time you spent finding out additional information about your software and its functionalities could save you both time and money? Would that make it worth it? The benefit of discovery will far outweigh the cost of time spent when you are looking at Sage Intacct. Follow these guidelines to maximize Sage Intacct in your organization.
Use all the modules included in your subscription:

Intacct's core product includes Accounts Payable, Accounts Receivable, General Ledger, Purchasing, Order Entry, Cash Management, Prepaids, Reporting, Dashboards, Platform Services and Collaborate.

Have you configured all of these?

Cash Management allow you to use Bank Feeds and reconcile your bank in minutes.

Reporting and Dashboards can give you greater insight into your company's performance, and the Collaborate module allows you to communicate effectively with everyone in your organization without leaving the Intacct product!


Utilize CSV data imports or the API:

This is a real time-saver!

Eliminate the drudgery and slow pace of manual data entry.

Use CSV files to import your entries and automate data from third party systems into Sage Intacct via the API.
Plan a team review for the quarterly release notes: Sage Intacct releases updates 4 times a year. These updates may include program fixes, and they also include new features & enhancements.

These new features are worth knowing about, and also, new features may need new permissions to be assigned.




Subscribe to a Sandbox company:

You can have an exact copy of your data to use for training and testing.

This is the perfect space to check out new features, and test new procedures without any risk to your production environment. It also gives you a real environment in which to train new staff members.


Set up Statistical Accounts to track non-financial data: Tracking non-financial data is becoming more and more prevalent in order to track key metrics and sophisticated analysis in financial reports.

If you are tracking number of employees, or number of members, for example, it becomes a simple exercise to report on revenue per employee, or advertising expense per member. Specific and insightful company data is readily available in financial reports and dashboards. Which bring us to our next item….
Create a Dashboard:

A custom dashboard will give you the information you want and need very quickly, at a glance.

Dashboards can be customized for roles or for individuals and are protected by assigned security. Standard dashboards are already established with the core Intacct product.

But you can go to the Intacct Community (intacct.com) and do a search on 'sample dashboards' to get some great ideas of how diverse and detailed custom dashboards can be!


7. Use Checklists to provide visibility and illustrate business processes: Create checklists directly in Intacct, and assign specific tasks to individual users in order to track progress. For example, create a checklist of "things to do at Month-end" so that your month end close is consistent every month!



8. Enable GL Outlier detection: What exactly is an Outlier? An outlier can be defined as a piece of data that deviates drastically from the given norm or average of the data set. Once GL Outlier detection is enabled, Intacct's AI capabilities will alert you to unusual entries, allowing you to investigate and correct them prior to month end, or any audit. To turn on GL Outlier Detection, you must first turn on the subscription for AI / Machine Learning under Company > Subscriptions.




Then you will be prompted to Enable data service and then to Enable Outlier detection.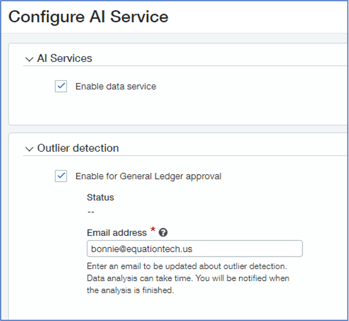 9. Create Smart Rules in Platform Services: Remember in item 1 that Platform Services is part of the Core Modules of Intacct? Smart Rules and Smart Events can be configured to build compliance into your business processes, or to act as a notification when a certain event occurs. Never be caught unaware again!
10. Out of the box A/P Bills and Payment approval:
Enable these features if you want AP bills to be approved before being selected for payments or payments to be approved before being issued . You specify how many levels of approval you want, the amounts that require approval, and the number of required approvers.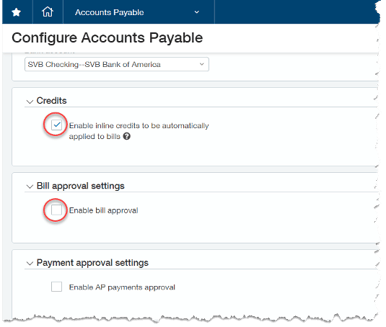 11. Out of the box Purchase Order Approval
Simply enable this feature and specify which purchasing transactions require approval, the required approvers and the approval chain, and whether any of the approvals should be based on the transaction amount.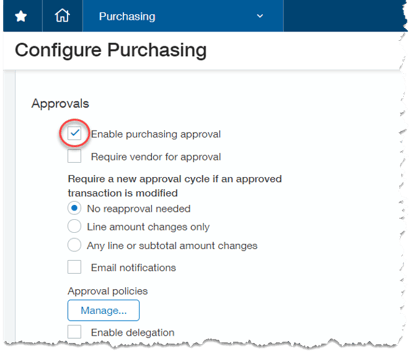 12. Get Training: You've heard the saying, "What if we train them and they leave? But what if you don't train them and they stay?" Nothing helps a team more than training and having the confidence in what they are doing. Right from your desk you can join the Intacct Community and have access to all sorts of great information, attend Customer Meetups or User Groups. There are lots of great ways to learn and engage with other Intacct users. If you want to take courses on specific topics, create an account at the Sage Intacct Learning Center for instructor-led courses, or web tutorials.
There is a world of information that Sage Intacct can provide for your company. Give Equation a call or email us anytime to help you get started maximizing your Intacct investment!