Sage Intacct is making it easy for their new users to learn the program in 8 simple lessons…for FREE! The On-Demand course, Sage Intacct Fundamentals, is available in Sage's Learning Center. This course will teach business users how to navigate and perform accounting functions in Sage Intacct. There is no audio with the course, but a lab environment will be provided to course attendees in order to complete hands-on activities, allowing the students to practice the entries, navigation, and reports from within each lesson. The course duration is 8 hours and contains all the same content as the Instructor Led Training for Intacct Fundamentals. The On-Demand course allows the user to proceed at their own pace, on their own schedule, and the star pupil can steam ahead quickly! And this course is eligible for 8 CPE credits as well.
This will make onboarding new employees simple and easy. And you will know that they have been trained fully for all of Intacct's basic tasks, while freeing up your other staff from the responsibility of training and allowing them to continue with their own tasks.
Click here to login to Sage's Learning Center. If you don't already have a learning center account, you can sign in with your company login credentials, or you can request an account.
.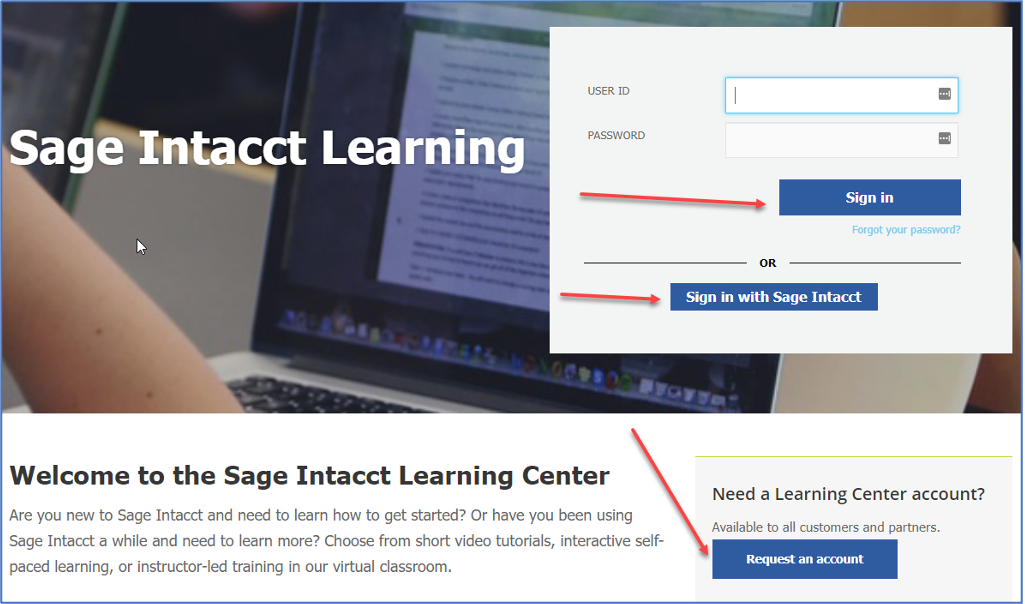 Once logged in, look for the Featured course Sage Intacct Fundamentals On-Demand (NA). Click on the course button to see an overview of the course and then click on the Course Registration tab (on the lower left corner) to start the lessons.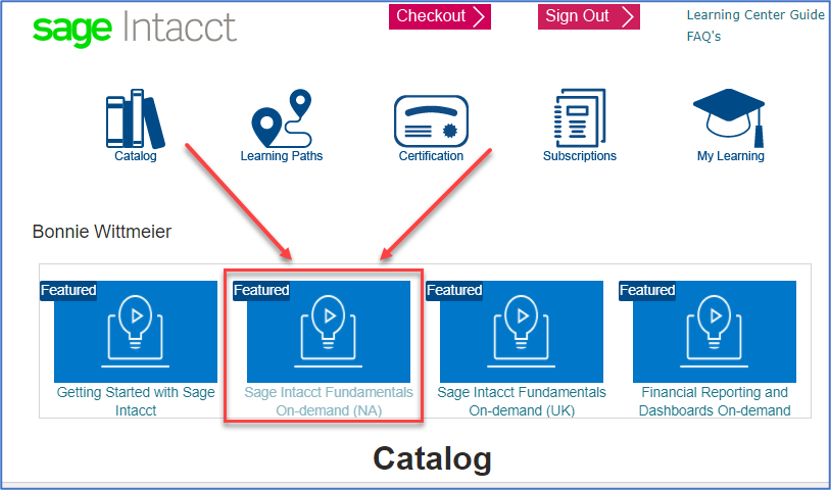 There is a pre-requisite course, Getting Started with Sage Intacct, that can be reviewed in less than an hour. The actual course content of the Fundamentals track includes these lessons:
Introduction to Sage Intacct
Working in the General Ledger
Managing and Reconciling Cash
Requesting and Purchasing Items
Managing and Paying Bills
Processing Orders
Managing and Processing Invoices
Closing the Books
Introduction to Reports
This is a comprehensive learning package that covers all of the core Intacct modules. Give your existing employees a refresher, and teach your new employees the Intacct way. The lab environment provided is a huge aid in the learning process. Help keep everyone on the same page, and working together!
Sage Intacct Fundamentals On-Demand (NA)