One of the biggest challenges in becoming data-driven decision makers is the need for more and richer data in real time. If you're already struggling to deliver insight and analysis quickly with your current accounting software for financial services, read about what industry-leading firms like yours are doing to change the paradigm.
A surprising number of wealth management firms just like yours struggle with costly, on-premise software and hardware. So many hours are required to consolidate multiple funds, usually in several currencies, that providing the real-time data necessary to make quick investment decisions is nearly impossible, and certainly time intensive. Here are the 3 approaches to obtaining and providing deeper financial insight in real time and on demand that have made the biggest impact.
Approach 1 – Close Faster and Report Sooner
A "fast close" means there is the shortest time possible between the period end date and when the financials are released. But what if you could uncouple reporting from the period end and run reports on demand? Anytime? All month long? It's possible with cloud financial services accounting software, such as Sage Intacct.
Sage Intacct is constantly and automatically consolidating all your data all month long. What this means is that you can create and run reports at any time because the databases are updated in real time. No more waiting for the period to end to consolidate all your data into dozens of spreadsheets or hundreds of emails. Now, managers and executives can see key trends sooner and act faster.
Approach 2 – Integration Improves Analysis
One of the long-time barriers to ad hoc reporting was disparate, disconnected data sources. The time it takes to collect, input, and report on all your financial and operational data can require weeks in some organizations depending on complexity and cause error-prone financial reporting. Dozens of external spreadsheets have to be updated and recalculated in order to provide the reporting executives need.
But with Sage Intacct, there is a live connection that is continuously aggregating and updating so you can create real-time reports enabled by the connection to the underlying data. Intacct makes it easy to build visual dashboards and reports, which you can easily save as templates. Now your managers and executives can self service their own requests as well.
Approach 3 – Visualize Insights
One of the biggest shortcomings of spreadsheets is their lack of visual cues that should prompt management to action. Your data should be be delivering insights that drive your teams to action. Most companies achieve this with 8-10 key performance indicators.
To give your managers a richer understanding of cause and effect, Sage Intacct's cloud-based accounting software has built-in dashboards that enable drill down all the way to the underlying transaction. Your team members can ask and answer their own questions with sort, filter, and group capabilities. And trends are easy to spot in Intacct, unlike in spreadsheets, with color-coded trend indicator icons, dynamic graphing, and interactive charts.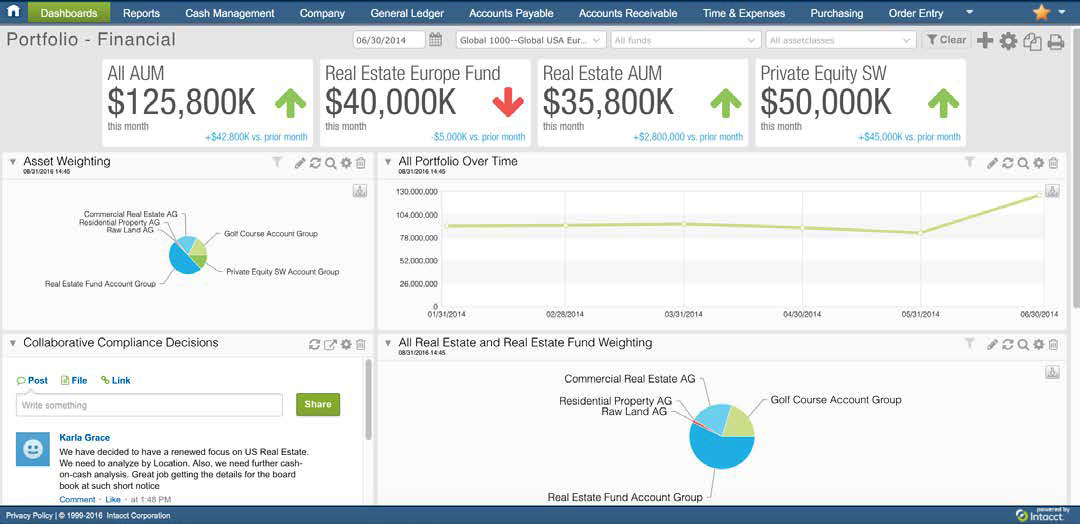 It's possible to improve your wealth management firm's productivity, growth, and performance with real-time data on demand that enable quicker decisions with the only AICPA-recommended financial services accounting software, Sage Intacct.
Contact us if you have questions about business care or need personalized support from our team of Sage Intacct technical experts.