Quarterly, Sage Intacct pushes out new features and enhancements to help you save time and get more value from your cloud financial software. We've highlighted a handful of features in Sage Intacct's 2019 Release 2 that wealth management, medical practice, and hospitality companies will specifically find valuable.
If you're spending too much time with allocations and bank reconciliations, or need better visibility into bills that are due, you have a lot to enjoy in Intacct's 2019 Release 2. You can read the full release notes here.
Transition to Action user interface as default
The Action User Interface (UI) is an efficient, new look and feel as well as navigation you can personalize to fit the way you work. Build your own menu using Favorites and easily reorder your applications with a simple drag and drop.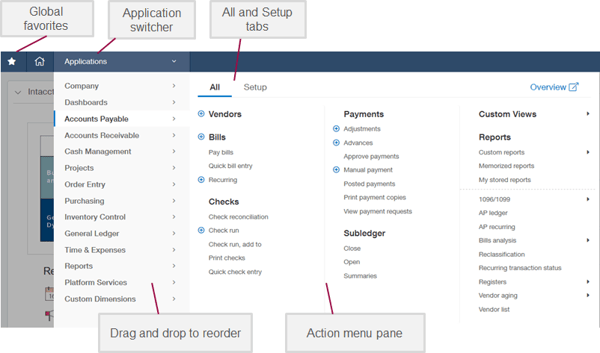 It's easy to switch to the previous UI by clicking your Intacct user name in the upper right of the screen, then simply select Switch to previous UI to find what you need. However, it's important to note there are new features that will only be in the Action UI, including:
Bank Reconciliation – automation enables permissions and segregation of duties you can fine tune (e.g. certain users can reconcile transactions, while other users review and finalize.)
Bill Paying – AP Workbench offers granular bill filtering including the ability to create custom filters to help you focus on your most important payables first. Create and save your most-used filters (e.g. bills due this week/month, past due, or from a certain vendor), then just select it from the drop-down list later.
Entity Picker – See and select from a subset of entities you have permissions to access, including your 5 Recently Used entities, in a drop down. You can also select a specific color for your entity.
Dynamic allocations you can "set and forget"
Wrangle those time hogging, complex allocations within an entity with recurring allocations and true-ups. Now you can schedule allocation generations for an individual allocation or a group, control the order they're processed, and fully document your allocation rationale with attachments for easy auditing.
Wealth management companies, for example, will see an expanded basis section with a new accumulation method for Ending Balances so you can allocate based on "balances reflected in shares of asset ownership such as investments."
Keep inventory lean and avoid "stock outs"
Sage Intacct added a third replenishment method: Demand forecast by fluctuating values. Hospitality and medical practice teams, for example, sometimes see demand for items and consumables swing wildly seasonally. Now you can project the quantity you'll need on hand using historical data and other information using the new Replenishment Fluctuating Demand Forecasts page. Pinpoint exactly what you need and when you need it across a wide variety of items and avoid running out (or having too much) ever again.

Release Highlights
Here are some other features Intacct detailed in their Release Notes:
Enhanced contracts with project accounting
Update to historical rate calculations when you consolidate your books
Categorize contracts with a new contract type to group contracts in a way that suits your business
New out-of-the-box Dashboards for centralized cash analysis and key financial ratios
Workflows now automate postings to user-defined books so you can administer and report on sales and commitments faster and more accurately
The only accounting solution recommended by the AICPA, Sage Intacct provides the automation to improve your financial and operational performance.
Contact us if you have questions about business care or need personalized support from our team of Sage Intacct technical experts.