Intacct 2019.4 was released on November 22!
Sage Intacct releases new updates to its web-based applications four times a year. The last update of 2019 was released on November 22, 2019 and is full of new features and product enhancements. Here are some of the highlights of what to expect!
DRAFT CONTRACTS:
Now you can save a contract, contract line, or expense line as a draft without affecting the GL or the Contracts subledger. You can now review and adjust before posting, and can include draft values in forecasts and renewals. New security has been added to separate the Add, Edit and the Post functions for Contracts.

Other new elements supporting the draft functionality are:
Post and Draft buttons
Draft state on contract schedules
Renew contract as draft
TASK DIMENSION in PROJECTS:
After enabling the Task dimension, a task field is added to transaction screens so that you can select both a project and a specific task within that project as part of your normal date-entry process. Capture and analyze data on your projects right down to the specific task!
BUDGETING AND PLANNING:
Export your budget to Sage Intacct with significant improvements including:
Export to an existing budget and add or replace data
Export to the top level or specific entity of a multi-entity company
Remove irrelevant budget levels when you modify your budget structure
Drill down from a budget report in Intacct to the detail sin Sage Intacct Budgeting and Planning. This is really taking integration to the next level!
INTERACTIVE CUSTOM REPORT WRITER:
Intacct now contains an expanded library of over 60 out of the box reports across all application areas. They can be used 'as is' or as a starting point for your own custom reports. Account Groups have been enhanced to help make custom reporting even easier, with the addition of the Account Group Purpose field and the Account Group Manager field. These fields help organize your account groups and narrow down the list when selecting groups for reporting purposes.
NONPROFIT INDUSTRY FEATURES:
There is a new Cash Analysis Dashboard that is included in the Not for Profit QuickStart. Use this dashboard as a starting point and customize it to meet your needs. Take advantage of the Advanced CRM Integration with the ability to synchronize user-defined dimensions from Intacct to Salesforce and the improved custom field mapping. You can now use the Lookup Object drop down menu to specify the source of the field and help identify the managed list you want to see in Salesforce.
OTHER RELEASE HIGHLIGHTS:
General Ledger - A new transaction allocation method is now available so you have three methods to choose from:

Percentage
Exact Amount
Fixed amount with over/under logic

Inventory Control – More precise date tracking for order management with new customer delivery and receiving dates
Inventory Control – More comprehensive inventory totals reporting on 6 preset inventory totals:

Damaged
On hand
On hold
On order
Requisitioned
Scrap or spoilage
PLUS – you can create custom inventory totals to suit your needs

Contracts – Invoice by project; generate a separate invoice for each project associated with a contract
Contracts – Workflow has been added to automate the re-estimation process to comply with ASC 606. Save hours of complex spreadsheet work with this new feature!
Order Entry - Sage Intacct can pull the Serial number or Lot number entered for items and include them in the printed sales invoices
Purchase Orders – New asset class selection is available and allows Intacct to verify the GL account is a fixed asset account and the item is a fixed asset. This ensures the appropriate depreciation method, useful life, and other information is used avoiding any potential incorrect data entry.
Platform Services – Customization Services are now available in the Action UI, giving it a more modern look and feel.
There is a lot to explore in the newest release of Sage Intacct. Watch the highlights: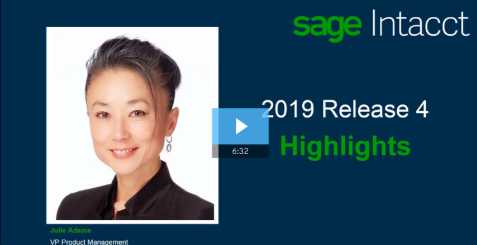 And read the full list of enhancements here. Call us if you need personalized support from our team of Sage Intacct technical experts.