With the release of Sage 300 ERP 2012 (formerly "Sage ERP Accpac") last year, your ERP system received a nice boost from a host of new features and enhancements. Your system also got a lot smarter with fantastic new capabilities that were added to Sage 300 Intelligence Reporting in Version 2012. Here's a look at some of the new reporting tools that we think you'll like.
New Reports Available
For starters, a couple of brand new pre-built reports are now available with Sage 300 Intelligence Reporting including:
Sales AR Master Report - based on data from your Accounts Receivable module, this report displays line item sales information by customer, invoice description, and stock items sold, along with Gross Profit and Gross Profit Percentage figures.
Dashboard AR Analysis Report - a graphical report for managers that want a summarized view of YTD and Fiscal Period Profit and Loss figures, top 5 customers, top 5 expenses, and top 5 variances.
But that's not all ... there are a bunch of other free report templates available for download from the Free Report Templates Group on the Sage BI Community website. It's a group of developers and third parties set up to foster a community of sharing, featuring new free reports added regularly.
Report Designer and Reporting Trees
The new Report Designer for Sage 300 Intelligence is a handy tool that allows you to easily create new reporting formats - including report columns and pre-defined formulas - using a really simple drag-and-drop interface. Plus, a new Formula Builder helps in the creation of additional calculated fields while the "What If Analyzer" provides a sliding scale that you can use to dynamically change amounts for budgeting, forecasting, and projections. Download the Report Designer Guide for details.
Sage 300 ERP 2012 (formerly "Sage Accpac") also saw the introduction of new Reporting Trees that allow you to create a visual model of your company's reporting structure without changing the underlying financial data. This enhancement for Sage 300 Intelligence Reporting is perfect for companies that have a hierarchical structure in which other business units (or departments) roll up and report to higher levels.
Other Notable New Intelligence Features
Sage Intelligence Reporting also comes with a collection of other "smart" new features. Perhaps the most significant is the automated report distribution feature allowing you to send reports to a file, ftp site, or via email. Other enhancements include improved data refresh tools, simplified drill down, faster report generation, and a handy report designer progress bar.
Sage 300 ERP 2012 (Accpac) Intelligence Release notes
Download the Sage Intelligence release notes with all the details about important new features and changes made since the last release of Sage Intelligence Reporting for Sage 300 ERP 2012.
Need help figuring it all out? Be sure to contact us with any questions about upgrading, updating, or anything in between!
Get the Whole Scoop
This post is an article that appeared in our Sage 300 ERP newsletter for 1st Quarter - 2013. To download or view the full newsletter, click the thumbnail image below: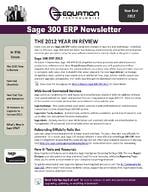 Related Articles
Other Sage 300 ERP newsletter articles you might be interested in:
How to Color Code Companies in Sage 300 ERP
Working with File Attachments in Sage CRM