Version 5.5 Retirement - March 30th
With the release of Sage 300 ERP 2012 in September of last year, Sage will no longer support Sage 300 ERP (formerly "Sage ERP Accpac") Version 5.5 after March 30, 2013. This is in accordance with standard Sage Product Support Policy that provides support for the current version plus two versions back.
Be sure to contact us if you're currently running Version 5.5 and would like to schedule an upgrade. Or to learn more about the newest Sage 300 ERP Version 2012, go online to:
www.Sage300ERP.com/2012release
Preparing for an Upgrade
With Sage 300 ERP 2012 now available and the chaos of year end processing behind you (hopefully!), many customers are thinking about an upgrade. However before you download the newest version and begin the process, there are several important questions to ask and preparations to make. Does your current hardware and technology support the newest version of Sage 300 ERP? What are the steps involved in upgrading and are product updates required before starting the process? Do I need to prepare the data?
Sage 300 ERP Compatibility Guide
Sage 300 ERP Installation Guide
Get the Whole Scoop
This post is an article that appeared in our Sage 300 ERP newsletter for 1st Quarter - 2013. To download or view the full newsletter, click the thumbnail image below: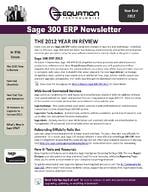 Related Articles
Other Sage 300 ERP newsletter articles you might be interested in:
Sage 300 ERP Version 2012 Gets a Little Smarter
How to Color Code Companies in Sage 300 ERP
Working with File Attachments in Sage CRM