It was recently announced that Sage Inventory Advisor Basics is now included with select Sage 300c bundles at no additional cost. Read on to learn about this enhancement to Sage 300c and what it means for inventory management.
What Is Sage Inventory Advisor Basics?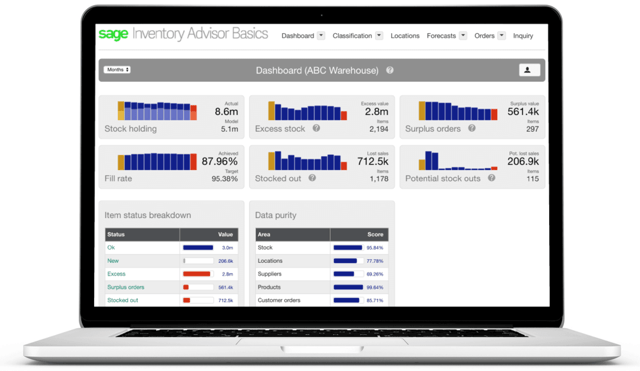 By now, you've probably heard about the Sage Inventory Advisor add-on – a cloud-based inventory optimization tool that works hand in hand with your Sage 300 software. The newer "Basics" product is based on the "full" Sage Inventory Advisor suite, but without:
Support for Bill of Materials
Central Warehouse Consolidation
Ability to Import Order Forecasts into Sage ERP
In short, it's a light version of the product that focuses on the most common inventory challenges while removing some of the complexity of more advanced functionality in Sage Inventory Advisor that not every company needs or uses. At the same time, it makes the product easier to implement, understand, and start benefiting from right away.
How is It Different Than the Core Inventory Module?
The core inventory functionality in Sage 300c is focused on processing and managing transactions. From there, Sage Inventory Advisor Basics then leverages that transactional data to help you make more informed decisions about how much inventory to stock, when to buy more, and many other strategic insights that the core inventory functionality isn't capable of. In short, they complement each other.
Here is a quick comparison of core Sage 300c inventory functionality versus Sage Inventory Advisor Basics:
| | |
| --- | --- |
| Sage 300c Inventory | Sage Inventory Advisor |
| Creates and monitors inventory transactions | Analyzes inventory transactions and makes recommendations |
| Creates POs & purchase reports | Forecasts demand and purchase requirements using sales data |
| Tracks receiving stock | Identifies what to order and how much |
| Counts physical stock | Identifies when to expedite orders to prevent stock-outs |
| Tracks pick, pack & ship | Recommends what inventory to reduce |
Who Gets Sage Inventory Advisor Basics?
As mentioned earlier, Sage Inventory Advisor Basics will be included at no additional charge to customers running select Sage 300c bundles which include:
Sage 300c Advanced
Sage 300c Complete
The Sage 300c Essentials bundle – typically made up of "Financials Only" customers – is excluded. In addition, customers running Sage 300c Advanced or Complete must be on a current Gold or Platinum level Business Care Plan. Customers on Silver level plans will not receive the free Sage Inventory Advisor Basics product.
Got Questions?
Contact us with your questions about Sage 300c and Sage Inventory Advisor Basics.