Sage 300 Cloud offers the experience, stability and functionality of Sage 300 brought into a browser! Not only can you access to your accounting and ERP data from anywhere and anyplace, Sage is providing extra functions and features in the cloud solution not available anywhere else.
Sage 300 Cloud editions include three different bundles, Complete, Advanced, and Essentials. Below is a chart outlining the differences between them. Pricing is based on bundle and number of users. There are price breaks for increased number of users.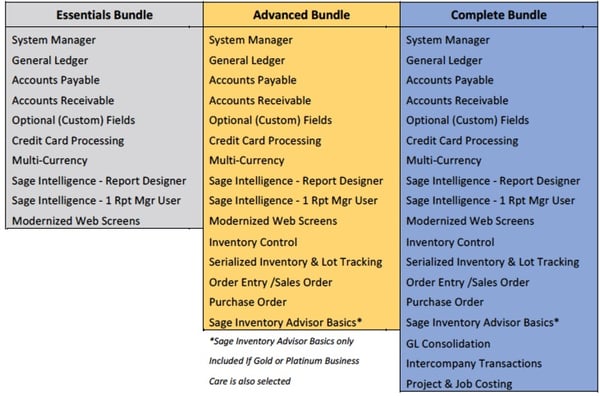 Other modules are available "a la carte" and are able to be purchased:
* Purchase Order * Project & Job Costing
* National Accounts Management * Uni Sales Analysis
* EFT Direct Receivables & Payables * IAP (per User
* Payroll – Canada * Payroll - US
* EFT Direct Payroll * Crystal Reports Users
* Microsoft SQL Server CAL's (runtime) * Sage CRM
* Sage Intelligence
Additional features of Sage 300cloud:
Sage 300cloud allows the user to access Sage via an internet browser, but also retain the 'old faithful' desktop screens they are familiar with! Users are not giving anything up… they are getting more functionality! Re-training is not needed as the user has access to both systems. Here is a list of available web screens for browser access Sage 300cloud Web Screens.
Notice that the list of web screens includes transactions to process credit cards. Sage Payment Processing is also available in Sage 300cloud, making receiving customer payments easier than ever. Credit Card Processing Made Simple with Sage 300
Sage's AP Automation module is only available for use with Sage 300cloud. Sage AP Automation allows for automated data entry, workflow approvals and automated payments. Reduce paper, streamline processes and save time and money! Click here for more information on Sage AP Automation and how it can help your business!
The Basic version of Sage Inventory Advisor is added to your Sage 300cloud subscription free with the Advanced or Complete bundle. SIA Basic is an inventory optimization tool that helps you take better control of your inventory. It will help prevent stock-outs and assist with forecasting and maintain optimal inventory levels.
For an Honest Evaluation of Sage 300cloud read our blog article originally posted when cloud came out in 2016 and updated again in Feb 2018. A lot has changed in the past two years, and Sage 300cloud is moving forward. Don't be left behind!