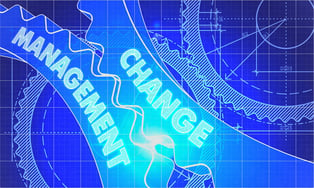 Managing process change is no easy task. Why? Because most people are comfortable and confident when they know what to expect. Even if a process is burdensome, clumsy, or unclear, most of us would rather soldier through it than think about changing it. As the manager in charge of making a process change, it is important for you to prepare for resistance and find ways to help your staff embrace your plan. The following are 5 important steps that will help you drive change successfully:
1. Vertical Buy-In
As a manager, you probably already know that change – especially business transformation initiatives that with significant financial or resource investment – requires buy-in from senior management. You have prepared a value proposition that illustrates that the benefits outweigh the costs and you have the full support of management.
But you are not done. Don't forget that it is just as important to gain alignment of the values and people who will be affected by the change. Before you embark on any changes, take time to meet with the team and explain what these changes mean for them. Allow them to voice concerns or questions and take those into consideration when preparing to make the changes. Quite often, the staff will have valuable feedback with respect to existing process workarounds or ancillary repercussions that you may be unaware of and should be addressed with the process design.
2. Clear Goals
Be sure to define what it is you plan to achieve by making these changes. Not only do clear goals help you to measure success, but they also ensure that everyone involved in managing the change remains focused.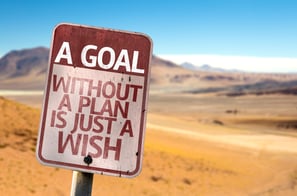 Take some time to document your new process design including what will change, how will it change, and what the desired end-state is (see 6 Simple Steps for Documenting Procedures for tips). Don't forget to consider what will be required of staff in adopting the change (will they be required to take training or learn a new application?). When everyone knows where they are headed and what it should look like once they get there, you have a better chance of actually getting there and also helps minimize the stress and apprehension that generally accompanies change.
3. Communication
The unknown is scary and that is a prime reason change is difficult for most people. The only way to mitigate that is through communication – and lots of it. You've communicated your plan to senior management and your team, you've set clear goals for everyone involved, and now you have started implementing the changes. Depending on the change, it might be valuable to create a formal project plan with instructions, responsibility assignments, milestones and key success factors. Keep everyone informed on the status of the project with regular updates to everyone involved. Consider external touchpoints that are affected by the change in process, such as customers, vendors, or other departments.
4. Documentation
Documentation is a critical factor for ensuring that the changes you worked so hard to put in place are actually followed correctly and consistently.
Process mapping is an effective tool for creating an easy to understand visual depiction of the process. Consider mapping both the former process and the new process to help the team understand what changed. Documenting the "as-is" process can help you and the team identify any existing work-arounds or control weaknesses that should be addressed with the new process design. Documenting the "to-be" process can aide in identifying any process gaps or control weaknesses that have not been addressed.
Once you have finalized the process design and mapping, prepare procedural documentation with step by step instruction. Detailed procedural documentation provides an invaluable resource for training the team, archiving the process, and providing support for business recovery. For tips on documenting procedures, visit our blog "6 Simple Steps for Documenting Procedures".
5. Training
Provide plenty of introductory and on-going training, as needed, to make sure that the team understands the new process goals and objectives. If you can, consider rolling out the new process to just a small test group first. This is your "beta testing" period when the process is being tested live and it's a prime opportunity to fine-tune any inefficiencies that may reveal themselves. Once the users have been able to apply the new process changes, consider holding follow-up meetings to discuss any concerns, questions or suggestions the team may have. Be sure to update and recirculate the documentation for any changes made.
Process change is one of the most challenging actions an organization has to make, but regularly revisiting processes to assess and improve upon them is imperative for a growing company. Having a change management strategy that includes team buy-in, clear communication, and instruction is an important investment towards ensuring the successful embrace of process improvement.
Our consulting and support team consists of senior consultants, of whom many are CPAs and MBAs. With over 10+ years of business experience, our efforts are dedicated to establishing a long-term partnership with our clients that will contribute to the organization's on-going success. Contact us if you have questions around improving your operations' efficiencies. Equation Technologies can assist you by providing the following services:Business Process Review, Business Process Enhancement, Business Process Reengineering, Business Process Documentation, and Business Process Recovery. Each of these services can be provided separately or as a cohesive solution.