Just released, Sage HRMS 2015 delivers new integrated payroll, benefits, recruiting, and employee self service features designed to maximize every dollar you invest in your employees. Let's take a closer look at some of the new capabilities in this latest version.
The Affordable Care Act & Sage HRMS
The Affordable Care Act (ACA) has brought significant changes to our healthcare system and has caused quite a few headaches along the way. With all the recent changes, you're bound to have questions regarding how the ACA affects you, your employees, and your business.
Luckily, you can use the new My Workforce Analyzer to help you track and analyze your HR data and make informed decisions regarding employee healthcare and ACA requirements. Available through Sage Source, this Sage HRMS add-on works by monitoring your employee hours to help determine if you qualify as a large employer and what your obligations are under the ACA.
Note: My Workforce Analyzer is available to Sage HRMS or Sage Abra Suite customers using both HR and Payroll products. Contact us for pricing or more details.
Human Resources Enhancements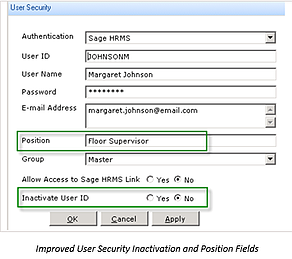 The new Employee Quick Find feature allows you to easily search for employees by entering just the first few digits of an employee's ID, first name, or last name.
Sage HRMS also now automatically hides HR/Employee Codes once they have been marked inactive or reached expiration. The updated codes include: Benefit Insurance Plans, Benefit Savings Plans, Job Status Codes, Employee Note Author, Employee Note Type, Salary Grades, Employee Type, Events, Ratings, Shift Differential, and Skill.
With this new release, you are no longer required to delete a security user in order to remove the user's permissions.

Now, you can inactivate the user so it can be reactivated again at a later time. In addition to this new User Security Inactivation functionality, you can also identify the user's job title or Position with a new text field.
Other Notable Enhancements
- Gross-up Calculator - Calculate the gross amount of money that you need to pay in order for an employee to receive a predetermined net amount.
- Improved Reporting Functionality - Sage HRMS now includes SAP® Crystal Reports 2011 for designing and delivering powerful, flexible reports.
- Microsoft Windows Internet Explorer 11 and the Microsoft Windows 8.1 OS are now supported by Sage HRMS and Sage Employee Self Service 2015.
Sage HRMS 2015 Release Notes
Contact us for the Sage HRMS 2015 Release Notes or to discuss an upgrade.
If you'd like to know more about Sage HRMS and how it can help your organization please contact Equation Technologies today. Equation Technologies is a certified Sage partner and an expert is Sage HRMS.
©2015 Juice Marketing, LLC. http://www.juice-marketing.com. All rights reserved. This article content may not be reproduced (in whole or in part), displayed, modified or distributed without express permission from the copyright holder.