Bank Entry (Not Responding) in Sage300 Bank Reconciliation
Bank Reconciliations can be challenging at the best of times. Here is a tip to help you navigate one of the known pitfalls in the bank reconciliation of Sage 300.
From the bank reconciliation screen, we can open the Bank Entry screen to create new bank entries for our reconciliation. This is a handy feature which allows us to make our bank adjustments immediately during the bank reconciliation process.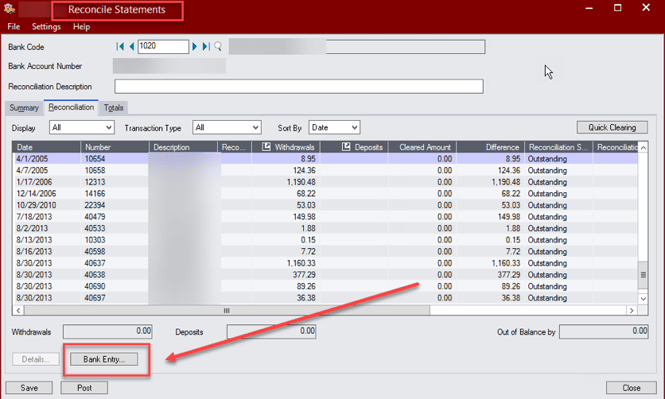 In some cases, these bank entries will not Save, Post, or Delete when launched from within Bank Reconciliation, but go into a 'not responding' status and never complete the requested function (no matter how long you wait!)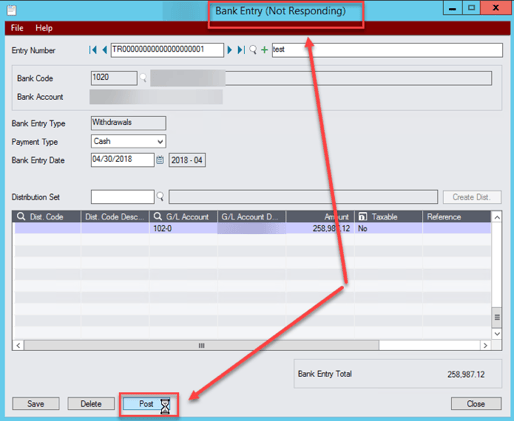 Once the entry goes into this state, the only way to shut it down is to use the Task Manager to end the task, and close the screen.
There are 2 ways to defeat this problem!
Only use the Bank Entry function outside of Bank Reconciliation.

This does, unfortunately, remove some of the convenience by forcing the user to go out of bank rec, open bank entry, complete your task, and then refresh (calculate) your bank reconciliation screen to continue that process with the updated bank entry information.

However, posting, saving or deleting entries from the Bank Entry icon separate from bank rec WILL NOT FAIL.

This 'Not Responding' issue generally occurs in databases that have a large volume of transactions in their bank module.

This means that if we want to continue to use the Bank Entry function from within the Bank Reconciliation screen, we can remove some of those transactions to reduce the volume that bank is dealing with, and keep the convenience of being able to Save, Post or Delete bank entries without having to exit the bank rec.

The first step in clearing any history for any module is to make a backup of your data.

This can be a SQL backup done directly on your SQL server or it can be a database dump from your Sage300 Administrative Services module.



Then, go to Bank Services / Bank Periodic Processing / Clear History.

There are several options to choose from here, but the one which is affecting this issue is the Bank Transactions.

Select to clear Bank Transactions and set a Through date and Process.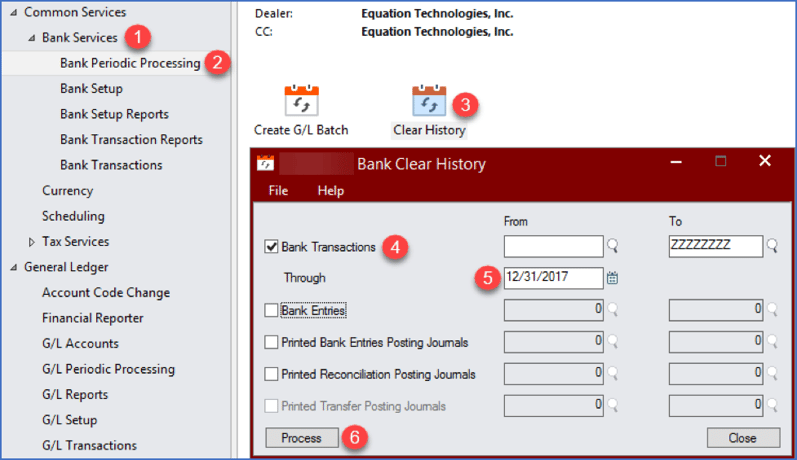 Once this process is complete, test your bank entry through bank reconciliation again to make sure enough data has cleared to be able to use this function.
Clearing history in the bank reconciliation module has the added benefit of making navigation within your bank reconciliation MUCH FASTER also! So, this resolution has a double bonus for you!
If you would like assistance with this issue, clearing history or any other bank function, please reach out to us; we would be pleased to assist you! support@equationtech.us
If you have appreciated this little bank reconciliation tip, join us for our January 2020 webinar on January 15 which features a whole hour of Bank Reconciliation Tips & Tricks! Click here for registration. You won't want to miss this event!