The January 2013 Payroll Tax Update (PUP) is expected to be available some time after December 20, 2012 and can be downloaded from the Sage Customer Portal. Sage will update the download with any late-breaking legislative changes, as necessary, throughout January 2013.
Note: you must have a user name and password along with a current Sage Business Care plan to access and download the update. If your plan has expired, please contact us to discuss support options. If you do not have a current logon, click "Sign Up for a Customer Portal User Account" in the lower portion of the screen.
How to Install and Activate Tax Updates
To download the appropriate tax update:
Login to the Sage Customer Portal and visit Sage 300 Downloads to access the latest updates.
Choose Get the Update on the appropriate link.
Click download in the upper right of the page, then click run to start the process.
To install the tax update:
Run the executable file that you just downloaded
Confirm or change the location that the files will be saved to (default is c:\AI_Temp), click next, and follow the onscreen prompts.
Accept the license agreement and click next.
Select or change the location where the files will be set up, select the features you wish to install, select or enter a new program folder, and click next.
Verify components to be installed and file locations. If you need to make changes, click back. If details are correct, click next.
Click finish to complete installation.
Watch this YouTube video to review the process step-by-step.
Note: This applies to both U.S. and Canadian payroll in versions 5.5, 5.6, and 6.0.
Get the Whole Scoop
This post is an article that appeared in our Sage 300 ERP newsletter for Year End 2012. To see all the articles in this newsletter issue, click the thumbnail image below.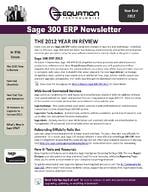 Related Articles
Other Sage 300 year end processing articles you might be interested in:
Sage 300 ERP - The Year in Review
Closing Procedure Checklists for Sage 300 ERP
6 Tips for a Successful Year End in Sage 300 (Accpac)
Locking Fiscal Periods in Sage 300 ERP
10 Reasons to Upgrade to Sage 300 ERP 2012
What's New in Sage CRM?