A Review of Version 7.1 Service Pack 2
Bundled with the Sage 300 ERP 2012 release was the latest version of Sage CRM 7.1 Service Pack 2. In this article, we'll explore some of the primary enhancements to Sage CRM - along with the newest Sage 300 integration components - that are included in this service pack for your CRM software.
Cross Browser Support
Earlier versions of Sage CRM were primarily tested and optimized for Microsoft Internet Explorer. But with the Service Pack included in Sage 300 ERP 2012, Sage CRM now runs on your choice of Microsoft Internet Explorer, Mozilla Firefox, Google Chrome, or Apple Safari.
Similarly if you prefer running a computer or device that does not have Internet Explorer installed (like a Mac or iPad), you can now access Sage CRM with that device.
Document Attachment and Mail Merge
In the process of making Sage CRM compatible with any of the 4 popular web browsers, Sage removed dependency on Internet Explorer plug-ins (like Active X) in order to use features like Document Drop or Mail Merge.
Since Mail Merge no longer relies on Microsoft Word or the Active X plug-in, you can create HTML templates and merge data from within the Sage CRM user interface. What's more, enhancements to Document Drop will allow you to drag and drop multiple files (i.e. customer correspondence or price lists) in a single task.
Sales Splits In Quotes to Orders
In a previous release, we saw the rollout of fully web-based quote and order entry screens within Sage CRM that were completely integrated into the Sage 300 ERP back office. The screens all "live" in CRM and the sales person doesn't know whether he or she is accessing a screen and data from the accounting side or not. It's all one consistent experience which doesn't require training and familiarity with Sage CRM and Sage 300 ERP.
In this new release, Sage continues to build that seamless experience by incorporating functionality that's near and dear to the hearts of most salespeople. Commissions! These web-based Quote and Order screens within Sage CRM now offer the ability to enter sales splits that allow you to allocate transactions totals for up to 5 salespeople on a quote or order.
Better Dashboard Integration
Leveraging recent enhancements to the SData platform, it's now even easier to incorporate data from Sage 300 ERP into your Sage CRM interactive dashboards. The interactive dashboard is a configurable workspace that allows you to display contacts, reports, industry news, social links, and a wide range of resources you need quick and easy access to.
Get All the Details
Download the What's New Guide for Sage CRM v7.1 SP2 to learn more about the new features and enhancements. Or Contact us with your specific questions or to request assistance with an upgrade.
Get the Whole Scoop
This post is an article that appeared in our Sage 300 ERP newsletter for Year End 2012. To see all the articles in this newsletter issue, click the thumbnail image below.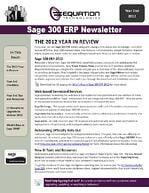 Related Articles
Other Sage 300 year end processing articles you might be interested in:
Sage 300 ERP - The Year in Review
Closing Procedure Checklists for Sage 300 ERP
Sage 300 ERP Tax Updates
6 Tips for a Successful Year End in Sage 300 (Accpac)
Locking Fiscal Periods in Sage 300 ERP
10 Reasons to Upgrade to Sage 300 ERP 2012