There are times when the user needs to clear Sage 300 data which are no longer useful for the organization and keeping so much data becomes quite an arduous task. In this blog, we would be discussing the requirements for clearing history in Sage 300.
All Clear History functions are located under the Periodic Processing folder for each of the individual modules and there are a couple of main requirements for the process of clearing history in Sage 300. You need to have the appropriate security authorizations, and you need to be the only user logged into the Sage company that you are clearing. It is strongly recommended that a backup be done prior to clearing, and a copy of the original database can be made and configured in Sage for inquiry purposes only. When running the clear history process, ensure that you are on the fastest machine, or better yet, on the server where the data is located. This will help reduce processing time.
But what about the data itself? There are very specific requirements that must be met in order for transactions and records to be cleared from Sage 300. Following are some of the specific functions that need to be done before any transactions will be removed out of Sage 300.
Banks must be reconciled, checks and deposits cleared and bank rec posted. Also – note the setting in Bank Services / Banks. The Days before Eligible for Clearing is set to 45 by default. If you are planning to clear history immediately, change this to 1 day (it can't be zero) before reconciling your banks.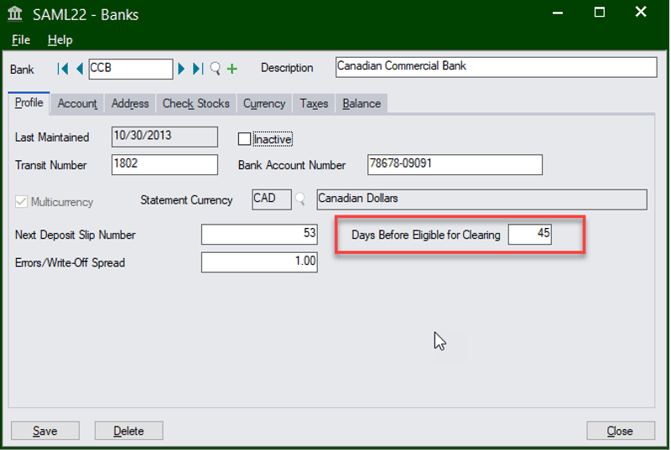 This process will affect the AR and AP documents that will be able to clear. If a check or deposit is not cleared outside the number of days before eligible for clearing – the check and any transaction attached to it (the invoice it pays) will not be removed.
In order to Clear History in AP & AR – documents must be fully applied, and have a zero balance, and posting journals must be printed. If you want to use the Delete Inactive Records function, here are the requirements:
Vendors/Customers – must have no documents assigned to them (clear history first)
Vendor/Customer groups – must not be assigned to any vendor/customer
Remit to/Ship to locations – must not be the primary remit to/ship to

AR Only – National Accounts – cannot be assigned to any customers.

Must have zero balance with no documents (clear history first)
AR Only – Salespersons – cannot be assigned to any customers or any Ship To locations
In the General Ledger, the Clear History function only clears posting journals and batches. The posting journals must be printed before any of these can be removed. If you are deleting inactive accounts (through Period End Maintenance), the account must not have any transactions in it, or have a balance. This means you must clear transaction detail and fiscal set history first. This is done through Period End Maintenance or through the Create New Year function. You can set the number of years to retain in GL Setup / Options – on the posting tab.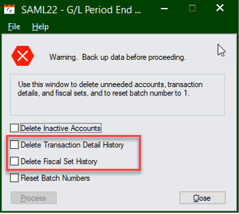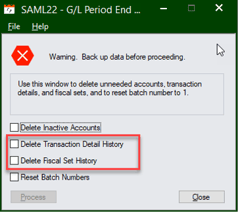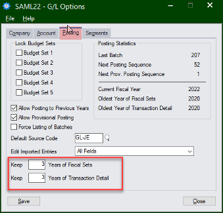 Order Entry is the primary module people want to clear because it is typically the largest module in Sage, having the most volume. When clearing transactions in order entry, this includes orders, shipments, invoices and credit notes. It is not possible to clear one type of transaction without the others. Each document must have a status of 'completed', which means that the shipment must be fully invoiced, and the order must be fully shipped, or have items cancelled, with no backorders. The status of the order must be Complete/Day End. Note that these documents are cleared based on the Last Posting Date, not the actual order or shipment date. This means that if an order is dated October 30, 2015 but someone 're-posted' it on November 3, 2015 in order to print it – then clearing history to October 31, 2015 will not include this order. This is the biggest 'gotcha' when clearing OE or PO transactions. Unfortunately, the Last Posting Date is not able to be seen through the Sage UI; it can only be seen via the data tables.
Clearing of Purchase Order transactions is exactly the same as Order Entry.
If you are using OE and PO, there is not much to clear in Inventory Control, but the deleting of inactive items deserves a mention. When deleting inactive items, the quantity and cost need to be zero, and it must not be on any open sales orders or purchase orders. Additionally, the item must not be a component in a kitting item or a BOM. This is all very logical, and the problem with deleting inactive items is that, unlike deleting other inactive records, the item is able to be removed even if the item is listed on historical transactions. This causes many data integrity errors for any order, shipment, purchase order, receipt, invoice – any document that contains that item. Here is a recommended solution for deleting inactive items that avoids all of these errors:
Create a category called ZZDELETED
Create an item called ZZDELETEDITEM and assign it to the ZZDELETED category
Use Item Number Change to Combine all the inactive items into the ZZDELETEDITEM.

This changes all the items on all documents as well, avoiding data integrity errors
Creating an item that shows up at the end of your item list (ZZDELETEDITEM) allows you to eliminate it from any item range that you print
Creating a category that shows up at the end of your category list (ZZDELETED) allows you to eliminate it from any category range that you print
Clearing history in Sage 300 requires some careful thought and planning. If you have a large database, clearing history may take a long time, sometimes days. If you would information about a utility that clears all the same data, but in a fraction of the time, contact us. Data that may take 3 days to clear through the Sage interface, can be done in less than 3 hours with the Fast Clear History utility.
Let us help you with these processes and any of your questions. Give Equation a call at 760-436-3520 or contact our support desk: support@equationtech.us