Every year, we see Sage 300 ERP (formerly "Sage ERP Accpac") evolve along with changes in business and technology - and 2012 was no different. Sage 300 received many new features, enhancements, and performance improvements to give you better value for your software investment. Here is a look at the year in review.
Sage 300 ERP 2012
Released in September, Sage 300 ERP 2012 simplified business processes and added powerful productivity enhancements. New Visual Process Flows provide you with graphical workflow diagrams that help you navigate the system and give you a clear view of the steps and tools required to complete daily tasks. Also included in this latest release is the new Sage Advisor technology. Designed to make updating your system simple and hassle-free, Sage Advisor notifies you of any available upgrades and patches, then walks you through the download and installation process.
Download the 16-page guide What's New in Sage 300 ERP 2012 for more detail.
Web-based Connected Services
Sage continues to develop the web-based Connected Services platform with the addition of many new specialized add-on "apps" and services that are integrated with Sage 300 ERP. Here are some of the notable Connected Services that were added or enhanced this year.
Sage Exchange - This secure online vault stores sensitive credit card information and processes transactions outside of your Sage 300 ERP system.
Sage Sales Tax by Avalara - Automatically performs address validation, jurisdictional research, and up-to-date rate calculations for every transaction.
Sage Alerts - Actively monitors your HR database and automatically sends email notification to management, HR personnel, and employees when certain events occur.
Rebranding Officially Rolls Out
Last year, year Sage announced plans for a major brand overhaul. This year, that plan was officially implemented. As a result, your Sage ERP Accpac software is now officially called Sage 300 ERP. However, it's important to note that the name change will not affect your system or business in any way.
Visit http://na.sage.com/sage-na/company/brand for more information about the rebranding.
New BI Tools and Resources
New reports and features were added to Sage Intelligence Reporting for Sage 300. The new Report Designer provides additional drag-and-drop Excel financial formulas, while the Reporting Trees allow you to create a visual model of your company's reporting structure.
To get the most out of your Sage intelligence reporting tool, be sure to join The B.I. Community for Sage 300, where you'll have access to demo videos, support documentation, free report downloads, discussion forums, and much more.
Need help figuring it all out? Be sure to contact us with any questions about upgrading, updating, or anything in between!
Get the Whole Scoop
This post is an article that appeared in our Sage 300 ERP newsletter for Year End 2012. To see all the articles in this newsletter issue, click the thumbnail image below.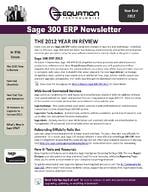 Related Articles
Other Sage 300 year end processing articles you might be interested in:
Closing Procedure Checklists for Sage 300 ERP
Sage 300 ERP Tax Updates
6 Tips for a Successful Year End in Sage 300 (Accpac)
Locking Fiscal Periods in Sage 300 ERP
10 Reasons to Upgrade to Sage 300 ERP 2012
What's New in Sage CRM?