If you're running an older version of Sage 300 ERP (formerly "Sage ERP Accpac"), you might be wondering if an upgrade to the newest version 2012 is right for your company. So we've compiled a list of the top 10 reasons to upgrade to help you make the right decision.
1. Easier Updates - The new Sage Advisor automatically checks and notifies you about updates and patches for your system, then walks you through the download and installation.
2. It's All About You - This release incorporates enhancements inspired by customer requests such as copy orders, create PO directly from order entry, and reverse GL batches.
3. Easy on the Eyes - Easy-to-read tables, an improved Finder, and enhanced help documentation make Sage 300 2012 the most user-friendly version yet.
4. Find Info Faster - New Inquiries for the Operations Modules give you quick access to your customized lists without the need for costly custom report development.
5. Faster Navigation - New Visual Process Flows and customized user roles and tasks mean you'll find what you need faster and spend less time navigating the menu system.
6. Catch 'Em and Batch 'Em – With the ability to capture pre-authorized payments during shipment or invoice entry, you can invoice multiple pre-authorized payments in a single batch.
7. More Intelligent Analysis – new features in Sage Intelligence Reporting give you more options to slice and dice your data to make faster, better-informed decisions.
8. More Customized Reporting Capabilities – new options in several standard reports and an updated Crystal Reports run-time engine provides more reporting flexibility than ever before.
9. Head Knows What the Tail is Doing – Tighter integration between Sage CRM and Sage 300 keep sales and operations in sync.
10. Ship More, Pay Less – Reduce shipping costs and take the hassle out of entire shipping process with a new, fully-integrated shipping solution.
Visit the Sage 300 Version 2012 microsite to learn all about the new release including access to brochures, webcasts, technical details, and answers to commonly-asked questions.
Get the Whole Scoop
This post is an article that appeared in our Sage 300 ERP newsletter for Year End 2012. To see all the articles in this newsletter issue, click the thumbnail image below.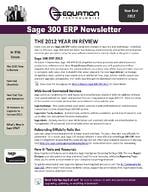 Related Articles
Other Sage 300 year end processing articles you might be interested in:
Sage 300 ERP - The Year in Review
Closing Procedure Checklists for Sage 300 ERP
Sage 300 ERP Tax Updates
6 Tips for a Successful Year End in Sage 300 (Accpac)
Locking Fiscal Periods in Sage 300 ERP
What's New in Sage CRM?